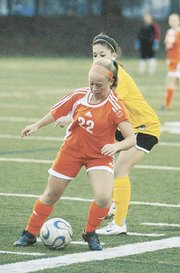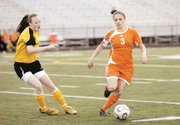 Facing a Patriot District quarterfinal matchup with West Springfield on Monday, May 11, the Lee boys' soccer team picked an opportune time to play its first complete contest of the season, an effort that second-year coach Marvin Sim called "a full 80."
"Everyone played within the structure that the coaches gave them," Sim said.
Thanks to Mulu Asihel's goal in the 43rd minute of play, which came off of an assist from Wali Eshaqzai, Lee was rewarded with a 1-0 win, as the Lancers will advance to the Northern Region tournament for the second time in as many seasons.
Lee (4-8-1) also played host to Hayfield on Wednesday night, but that game ended after this edition went to press. Hayfield, meanwhile, earned a 1-0 upset of Lake Braddock on Monday to earn its own berth in the region tournament.
Monday's upset of the Spartans (6-7-1) was not perfect. With about 10 minutes to play, a defensive lapse left West Springfield's Bayron Gudiel alone on the back post but his attempt sailed wide of the goal.
Still, the confidence gained from such a victory has been immeasurable, according to Kim. The team has finally realized the completeness required to win, and it has given Lee's coaching staff a certain amount of credibility with the message they've been trying to deliver.
"The team is confident," Sim said. "They know they're better than what their record shows."
<b>THE GIRLS'</b> soccer team at West Springfield can be described as an offensive juggernaut, as the Spartans had scored 46 goals in 14 goals through Wednesday morning, which works out to an average of about 3.8 per contest.
West Springfield has also been rather stingy. In those 14 games, goalkeeper Beth Ann Nowak has allowed all of four goals, with only one such tally since March 17. So while attaching a reputation to West Springfield (11-1-2) might start to seem necessary, first-year coach J.T. Alukonis would agree with only one label for her players.
"I would identify them as a team because they really do play together and everyone is on the same page," said Alukonis, whose team squared off with Annandale Wednesday after this edition went to press.
The defensive wall of Lauren Sipple, Danielle O'Brien, Maggie McGavin and Paige Babel have been chiefly responsible for keeping West Springfield's opponents scoreless, while Amalya Clayton (13 goals) and Jessie Gonzalez (12 goals) have provided the offense.
During the Spartans' 5-0 win over Hayfield in the district quarterfinals, two new names appeared on the score sheet. Tina Rader and Mariah Peters both got on the board for the first time this year, giving West Springfield a well-rounded attack.
"We've shown that we can score a lot of goals," Alukonis said, "but we've also shown that if we don't score a lot of goals, we can also hold the other team off the scoreboard and get a victory."