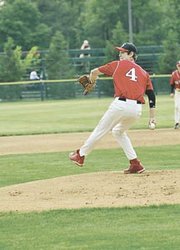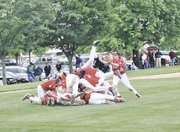 St. Stephen's/St. Agnes freshman pitcher Joe Warren had never thrown this many pitches in this short amount of time, so he took some extra precautions heading into Monday's IAC title game between the Saints and Landon.
"I ran a lot, ran a ton to keep warm," said Warren. "And I got in the hot tub last night."
Whether the jacuzzi actually made a difference is up for debate, but nobody can argue with how well Warren held up as SSSAS cruised to a 13-2 victory over Landon, winning the IAC tournament title and an unlikely share of the IAC crown.
The IAC determines its champion based on a point system, with a certain amount of points allotted according to each team's finish in the regular season and playoffs. Because SSSAS finished in third place during the regular season before winning the tournament, and St. Alban's did the exact opposite — first place in the regular season, third place in tournament play — the two schools split the overall title. Landon upset No. 1 seed St. Alban's in the semifinal round.
But there would have been no need for tiebreakers if it weren't for Warren. Just two days after producing a 48-pitch shutout performance in relief during the Saints' own 4-3 upset win in the semifinals over Georgetown Prep Saturday, he spun another gem, giving up just two runs in five innings against the Bears. In fact, about the only two hard hit balls he gave up were to the same batter, Landon's Joe Barlia, who had a triple in the fourth and a home run in the sixth.
"I don't really remember much about the game, I was just trying to throw strikes," said Warren. "Except for that home run, I remember that."
<b>HOWEVER, THE MEMORIES</b> of this title run will likely last awhile. Just two weeks ago, any sort of championship seemed out of the question for SSSAS (14-11 overall). After starting the season 7-2, the Saints proceeded to lose seven straight, going a whopping 21 days between wins.
They even lost to Landon in their final regular season game of the year before getting past Episcopal and Georgetown Prep to set up a rematch in the tournament finals.
"It has been a real roller coaster year," said catcher Chazzo Habliston. "But we'll take a championship any way we can."
That seemed to be the case early on against Landon. SSSAS jumped all over the Bears from the get go when second baseman Gerard Taylor scored one of his four runs on the day in the bottom of the first inning after a pick-off throw by Landon pitcher Patrick Hynes went awry.
It was all part of the Saints plan to secure an early lead for their young pitcher, a strategy that came to the forefront when coach Jim Supple had Habliston, the team's clean-up hitter, execute a perfect squeeze bunt in the first inning to get senior Whit Mayberry in for the game's second run.
SSSAS broke the game open in the third, using three walks and one hit batsmen to score four runs. The Saints added three more in the fourth inning and put up another four-spot in the fifth inning.
Leading the way at the plate were Taylor, who went 3-for-3, and Habliston, whose three-run double in the fifth gave him four RBIs for the game. That was plenty of cushioning for Warren to work with, who gave up just six hits, while striking out four.
"He's a gamer, and he always comes ready to play," said Virginia-bound senior Whit Mayberry, the Saints' usual ace on the mound. "It's been a pleasure to play with him, I know he's going to move on to some very good things in the coming years."
<b>THE FINAL PILE-ON</b> that served as a celebration following the win did have somewhat of a bitter taste to it for seniors like Mayberry and Habliston, who were playing their final game in high school. The Saints' up-and-down regular season meant that, despite sharing the conference title, they would not be taking part in this week's VISAA state tournament.
But it was a markedly better showing than last year's final, when SSSAS was on the other end of a blowout, losing to St. Alban's, 11-2. The difference this year, though, came from two unlikely sources — a late season dose of momentum and a freshman pitcher.
"As a coach, you see the potential of kids and you understand what the kids can do, so it's a matter of them clicking at the right moment," said a drenched Supple following a postgame Gatorade shower. "Fortunately for us, we clicked in the IAC playoffs. We're going out with a bang and I couldn't ask for anything more from this team."