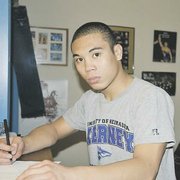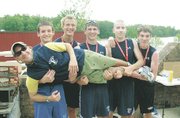 <b>Braddock's Billy Signs</b>
On Monday, May 4, Lake Braddock senior George Billy signed a National Letter of Intent to wrestle this winter at the University of Nebraska at Kearney. A three-time state champion, Billy was 177-10 with 105 pins/technical falls during his high school career, and he finished third in the Virginia AAA state tournament this past winter at 119 pounds. Billy was a National High School Coaches Association Junior National All-American and a two-time Northern Virginia Classic winner. He was also a freestyle and Greco Roman state champion and was a member of the Virginia Cadet and Junior National teams. Billy plans to wrestle at the 125-pound weight class for the Lopers.
<b>Luu, Balaji Shine</b>
At last week's Concorde District boys' tennis tournament, two Fairfax boys' tennis players stole the spotlight. Senior Sidarth Balaji won the singles competition, scoring wins over David Yang and Adam Binford of Chantilly and Philip Nelson of Herndon, and he later topped teammate Jason Luu (6-2, 6-1) for the district crown. In the doubles tournament, Balaji and Luu joined forces and were victorious as well. In boys' team action, Robinson won its district title for the 16th time in the past 17 years, finishing with a 12-0 mark against Concorde opponents.
<b>Morra to Augusta State</b>
After spending the past four years as a starter for one Metress brother, Lake Braddock senior Dominic Morra, a guard on the boys' basketball team, will spend his next four years with Bruins head coach Brian Metress' brother, Augusta State's fifth-year bench boss, Dip Metress. A Division II school located near the Augusta National Golf Course -- site of The Masters -- in Georgia, Augusta State plays in the Peach Belt Conference and reached the Division II Final Four this past winter. The year before, Augusta State played in the Division II national championship game. At Lake Braddock this winter, Morra averaged a Northern Region-best 30 points per game, with seven rebounds and three steals per contest as well for the Bruins (14-8). He finished his career with 1,561 career points, which is 43 shy of Hubert Davis' school record.
<b>Jefferson Third in State</b>
At this past Saturday's Virginia Scholastic Rowing Association's state championship regatta, which took place at Sandy Run Regional Park, more than 40 schools from Virginia and Washington, D.C. competed in a series of morning heats, with most of Jefferson's boats reaching the gusty afternoon finals. However, only the men's first eight was able to bring home a medal, coming in third after a close final sprint against winning Yorktown and second-place St. Albans. Members of the varsity eight boat included Springfield's Nader Al-Naji and Fairfax's Nolan Pollack, along with Chris Zeng, Dan Ranard, Connor Finch, Bryan Cheong, Thomas Georgiou, Will Richers and coxswain Ashu Goel. This Saturday, Jefferson and other crew area teams will travel to Philadelphia for the Stotesbury Cup Regatta.
<b>Penultimate Experience</b>
Jefferson's girls' outdoor track and field team claimed first place out of 20 teams at the Thomas Jefferson Penultimate Experience this past weekend, holding off second-place W.T. Woodson, 125-57. The boys' teams took sixth out of 17 schools with 46 points. Nora Gayer (high jump), Sara Gokturk (discus), Katherine Sheridan (800-meter run) and Dan Markwalter (pole vault) all finished first, while Kathryn Moore (300 hurdles), Ronik Malka (800m) and Sarah Stites (1,600m) placed second. Burke natives Lauren Laffosse (long jump) and Timmy Galvin (800m) earned second-place honors as well, and Springfield's Tania Ermak was third in the long jump; Fairfax's Arvind Rachamadugu was third in the triple jump; the boys' 4x400 relay team of Colin Donahue (Burke), Rachamadugu, Sy Rashid (Burke) and Jacob Hanger took third.
<b>Football Finals Changed</b>
This fall's Virginia AAA state football finals for Divisions 5 and 6 will be played at the University of Virginia's Scott Stadium, according to a press release issued by the Virginia High School League on Thursday, May 7.
The VHSL Executive Committee voted 24-0 in favor of the measure, which carries a two-year commitment. Last year's top-level title games were held at Virginia Tech's Lane Stadium, while the 2007 finals, which featured wins by Stone Bridge and Westfield, were held at Scott Stadium.
"We want our student-athletes to play in a big-time atmosphere and have an outstanding championship experience," said VHSL executive director Ken Tilley. "We know that playing at Scott Stadium will provide that experience, not only for the players and coaches but for all fans attending the finals."
<b>WCAC Golf Champs</b>
The Paul VI boys' golf team defeated DeMatha by one stroke to win the Washington Catholic Athletic Conference championship on Monday, May 11. Sophomore Tyler Wingo birdied two holes on the back nine, finishing with a two-round total of 2-over-par 144 for the individual title. Monday's victory was the fourth WCAC championship for the Panthers under 25th-year coach Milt Papke. The team also won the Virginia State Catholic Golf Championship for the fourth straight year recently, and it was their 10th such title in team history.
<b>She's a Quick Study</b>
West Springfield graduate Jess Thomas needed little time to make an impact on the collegiate level. As a freshman left fielder on the Emory University softball team, Thomas hit .418 (59-for-141) this spring and leads the Eagles with 15 doubles, six home runs and a .667 slugging percentage. For her offensive prowess, Thomas was named the University Athletic Association's Rookie of the Year on Wednesday, May 6. Emory finished the year at 32-12 after suffering an 8-0 loss at Salisbury on Sunday, May 10 in NCAA tournament play. In a 1-0 first-round regional win over LaGrange College, Thomas' one-out RBI-single in the bottom of the seventh inning sealed the victory.
<b>Storm Seeks Players</b>
The Southwestern Youth Association Storm's U-10 girls' soccer teams are seeking additional players for the fall 2009 U-11 season. The Storm teams are looking for motivated, impact players who want a competitive environment with premium training and a positive team approach, as teams are professionally coached and trained within the SYA Academy Training program. In addition to a newly-forming fourth team, the existing three teams will each be adding two to four players with birthdates no earlier than Aug. 1, 1998. Tryouts are scheduled for May 26-27 and June 1, with a rainout day scheduled for June 2 at SYA Field of Dreams. Contact Kurt Gordon to register at 703-606-9896 or kurt@syastorm.com.
<b>Lacrosse Registration</b>
NoVa West Lacrosse is conducting registrations for its summer camps, clinics and indoor league play. Camps and clinics will be in June and July. NoVa West, as the exclusive provider for lacrosse in the new Purcellville Sports Pavilion indoor facility, will be hosting summer, fall and winter indoor leagues for U-13, U-15 and high school-age boys. NoVa West is also conducting registrations for tryouts for the U-15 Virus and high school-aged Crusaders and Outbreak squads. Tryout weekends will be May 16-17 and 23-24. For more information or to register, visit the NoVa West Web site at www.NoVaWestLAX.com.