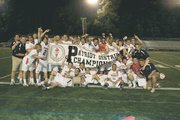 From the beginning of the season, West Springfield boys' lacrosse coach Scott Settar knew that he had a complete team. Maybe even one capable of snapping the school's decade-long streak of not winning a Northern Region tournament game.
The Spartans have several players capable of scoring from anywhere on the field and a long line of distributors with which to work. Of course, Settar didn't let his mind wander to that point, but he had confidence in his team nonetheless.
Seventeen games later, Settar's dream became reality.
After capturing the Patriot District title with a 16-10 win over Annandale last Friday, West Springfield (14-3) barreled past Yorktown on Tuesday, 15-5, winning a first-round regional tournament game for the first team in at least 10 years, according to anyone's recollection at the school.
Though Settar said his team has operated under the David-versus-Goliath model all season, the Spartans are starting to look more like the big guy than the little one throwing stones.
"We've been trying to play the 'card' as long as we can," said Settar, whose team will now host W.T. Woodson on Thursday night in the region quarterfinals. "The longer it takes us to get recognized, the better. Hopefully, we can sneak up on one of these teams."
<b>THOSE TEAMS</b> to which Settar alluded reside in the Concorde and Liberty districts, which have long been the class of the Northern Region lacrosse landscape. In the past six Virginia AAA state championship games, two Concorde teams have been featured in each one.
With Langley (Liberty champion), Madison and W.T. Woodson having their typical, successful years too, the Liberty District's depth does not fall far below that of the Concorde, if at all.
By playing the card, as Settar said, he's hoping that his team could fly under the radar as long as possible, though beating Annandale by six goals in the district final doesn't exactly help the cause.
"I think that helps our kids get ready in the offseason and in practice," Settar said. "They have something to prove."
Despite an 8-5 win for the Spartans during the regular season on March 30, Settar said his team struggled to adjust to Annandale's inverted attack last Friday, which pushed his long-pole defenders outside of their comfort zone.
So after the first quarter, Settar shifted into a zone defense for the rest of the game, holding Annandale to only three goals in the next 36 minutes.
As has been the case all season, West Springfield's offense came from everywhere, with nine different players scoring goals. Hayden Angulo and Zach Hart led the charge with three goals apiece, while Eric Schauder added six assists.
"Our kids didn't hang their heads, they stuck with it," said Settar of the school's first district title since 2007. "It was a nice win for everybody."