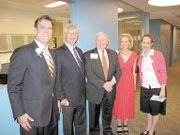 Rosslyn's first serviced office in more than two decades opened on May 6 when Preferred Offices, a locally-based company opened its ninth location on the 12th floor of 1001 North 19th Street offering 18,000 square feet, 62 offices, and four conference rooms.
At the opening was Arlington Chamber of Commerce President Richard Doud who cited the diverse Arlington County workforce of more than 200,000 as an example of the need for flexible office space in Rosslyn.
In recognition of opening its first business office in Arlington, and in keeping with its commitment to the communities in which it operates, Preferred Offices made a charitable contribution to The Reading Connection, an Arlington-based non-profit that encourages reading for at-risk families and their children.