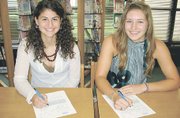 The first pitch Jess Ferrick threw this past Monday violently clipped her best friend and catcher, Victoria Marvin, on the left shoulder. A foul tip, Marvin absorbed the hit, stood up from her crouched position and wasn't exactly thinking of the right words to complement Ferrick's pitch location.
"When she got hit, I was like, 'Are you all right?' And she just sort of gave me a look," Ferrick said.
Marvin shook off the pain and Ferrick eventually went back to work, recording three outs on nine less painful pitches that inning. But the duo's reaction when Marvin was whacked aptly demonstrates what has become a unique connection between the Centreville softball team's two best players.
Born in Wall, Texas, Marvin, the quieter of the two, moved to Centreville during the summer of 2006. Her mom, divorced since Marvin was in fifth grade, was set to remarry, this time to her high school sweetheart who held a job in the area. But about a year later, the couple got divorced.
Meanwhile, Rich Ferrick, Centreville's softball coach and Jess Ferrick's dad, got a call one day from a guidance counselor at the school and gave his daughter a message.
"I always tell Jess, with new people, you need to talk to them," the head coach said.
So Jess Ferrick did, practically stalking Marvin in the hallways at school -- a memory the two still crack up about now -- and the two finally established a common bond first through basketball and later, softball.
<b>DESPITE THE PUDDLES</b> that had formed over his infield and the water that had soaked his clothes and postponed his team's game against Fairfax on Monday night (an eventual 3-1 win), Rich Ferrick's face lit up when he was asked to talk about his daughter and Marvin.
"My two daughters," he said.
Because Marvin was without a male influence in her life and had very little knowledge of the area softball scene, Rich Ferrick invited her to play with his daughter on the Southwestern Youth Association Xplosion and join the clan on family outings to various tournaments along the East Coast.
"She traveled with us and basically became part of the family," Rich Ferrick said. "I would even drag her to church on Sundays when we were traveling."
Marvin and Jess Ferrick grew closer, too. They led Centreville's basketball team to a 19-5 record during the 2007-08 season season and a 12-10 mark this past winter. Both played integral roles, with Ferrick the do-it-all hustle player and Marvin more of a scorer, earning All-Concorde District honors.
"I share everything with Jess," Marvin said. "She's the only one I really feel comfortable telling anything."
"Because we are such good friends, it's kind of easy to work together on the field," Jess Ferrick said.
<b>MARVIN WAS</b> supposed to play shortstop this spring, with Rich Ferrick set to entrust the catching duties to a group of youngsters. But pitchers, the coach said, are a lot like field goal kickers in football; they're finicky and want things a certain way.
Jess Ferrick was more comfortable with Marvin, so the change was eventually made during a 3-2 win over Robinson on April 22.
"If it helps the team out, I'll definitely play behind the plate," said Marvin, who guessed that the last time she caught around the age of 12.
Not surprisingly, both have had exceptional years. Marvin has hit .518 with a slugging percentage of .804 and an on-base percentage of .603. She's clubbed seven doubles, two home runs and has 14 RBIs. Ten prospective base-stealers have also fell victim to Marvin's cannon of a right arm.
Jess Ferrick, meanwhile, has gone 10-3 in the circle, striking out 136 batters with a you-can-read-the-label-it's-that-slow changeup and a fastball that hitters can't catch up to. At the plate, Ferrick has hit .455 with six doubles, three home runs and 18 RBIs.
Though they began in separate states, the softball careers of Marvin and Jess Ferrick intersected with Marvin's fateful move to Centreville and the outreaching arms of the Ferrick family. And they'll also continue those careers together too, as Marvin and Jess Ferrick have signed to play Division-I ball at Marshall next spring.
"I think the relationship between those two has been real key," said Rich Ferrick, whose team has gone 14-5 this spring and is again a Northern Region favorite. "When I finally put Victoria behind the plate, I could see a whole different person in Jess. There was a connection there."