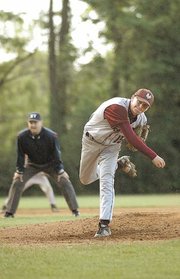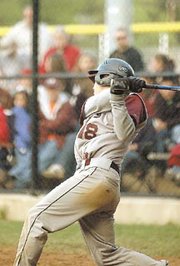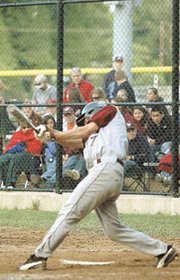 For most, it would seem obvious to point to a game-winning walk-off hit, like the double by right fielder Tom Brady that gave Yorktown a dramatic 2-1 victory over Mount Vernon in Monday night's National District final, as the pivotal moment of the game.
But for the Majors, it might have come down to an unconventional matchup between each team's pitcher. When Mount Vernon ace Wyatt Carpenter stepped up to the plate in the top of the fifth inning, the Majors trailed, 1-0, but had men on first and third with one out.
What was already an intense pitcher's duel reached its apex with Yorktown's Kyle Toulouse readying to pitch to his counterpart, Carpenter, who had a chance to bring home the tying run. That's when Toulouse showed why he was recently named the National District's player and pitcher of the year, picking off the Majors' Logan Beougher at first base, and two pitches later, struck out Carpenter to end the threat.
So at the end of the day Carpenter was technically the goat. He gave up the winning run in the last inning and struck out with men in scoring position. At the same time, he only allowed a runner past second base in two of the seven innings he pitched, while giving up five hits and striking out three.
"The pressure is there but you don't even want to think about it," said Carpenter afterwards of playing in a pitcher's duel. "You just want to keep focusing on the batter and the game."
<b>THE LOSS HAD</b> a déjà vu feel to it since just three weeks ago, Yorktown and Mount Vernon battled it out for 10 innings in a 1-0 Patriot win. In that contest, Toulouse pitched all 10 innings, while Mike Murdock and Carpenter combined to hold Yorktown without a run for nine-plus innings.
In the rematch, though, Mount Vernon had a comeback in them. In the top of the seventh inning the Majors' Andrew Sable plated senior Philip Bryant with an RBI single to give Mount Vernon its only run of the game and in the process, send this final into extra innings. But Brady and Toulouse had other ideas.
"[Toulouse] is just a great pitcher," said Carpenter, acknowledging the fact that the Yorktown ace gave up just one run over 17 innings against Mount Vernon this season. "The seniors, we've never beaten Yorktown. We wanted this game really bad, but they fought hard, too. There was nothing we could do about it."
"I'm pretty devastated," said Murdock, who played left field. "But everyone knows Wyatt can get it done. He did what he had to. We just couldn't get it done at the plate."
<b>HOLDING THE MAJOR</b> offense down has not been a common theme to their season, though. In fact, Mount Vernon has the most potent offense in the Northern Region heading into regional tournament play this Friday, averaging close to nine runs per game.
Even with a daunting matchup against Patriot District power Lake Braddock ahead, the Majors are confident they can get the bats going — as long as they don't see Toulouse again.
Coach Luke Sable pointed to close, spring break losses to Chantilly, Oakton, and Robinson as proof that Mount Vernon can stack up with just about anyone in the area. And the Majors have certainly gotten hot at the right time, too. Winners of 11 of their last 13, the Majors' only losses since April 8 have come at the hands of Yorktown.
Armed with pitchers ready to duel with the best of them, there could be a surprise for the rest of the Northern Region this week.
"We're a fighting team, these guys just don't know how to quit," said Carpenter. "If we keep our hitting up, I like our chances."