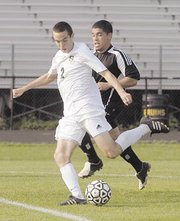 Halfway through its third game in the past five days, the South County boys' soccer team was sluggish and trailed No. 7 seed Hayfield, 1-0, after the first 40 minutes of the May 15 Patriot District title game at Lake Braddock Secondary School.
"I was concerned the whole first half," said South County coach Erich Gunderman, whose team was the tournament's top seed. "Coming in here, we were confident, but we didn't display the urgency that you would like to see in a championship game."
In his fourth year at South County after spending the previous 10 at West Potomac, Gunderman also said that his team played "on top of the world" to beat T.C. Williams, 7-0, in the quarterfinal round on May 11 and later "survived" during a 1-0 win over Annandale two days later in the semifinals.
But when senior defender Mojtaba Amin tied the score in the game's 73rd minute, all of the aforementioned fatigue disappeared. South County was rejuvenated and later finished the 2-1 victory when senior forward Max Kleess scored the game-winner with 67 seconds left.
"It sucks that it took us that long to get it going, but once [Amin's] goal happened, I knew that we wanted it," said Kleess, who came sprinting over to the sideline and let out a celebratory scream at South County's cheering section. "It was one of my few chances in the game, and I just took it."
The title was the first for South County, which went 7-3-3 overall, 4-2-1 in the Patriot District last spring and lost to Lee in the district quarterfinals. The wins over T.C. Williams and Annandale were also the first two playoff wins in program history.
<b>PLAYING FROM</b> behind hasn't exactly been a situation that South County (13-1-1) has had a lot of experience dealing with this season. By starting the 2009 campaign with six consecutive shutouts, South County didn't relinquish the lead in a match until a 3-0 loss to T.C. Williams on April 2.
And by winning six of their next seven by a combined score of 15-4, the Stallions haven't trailed since.
"When you win, you have all the energy in the world because that's nothing but adrenaline," Gunderman said. "When [Amin's goal] went in, the energy level went through the roof. It's a learning experience for them, and we have to come out and play from the start."
On Tuesday for the first round of the Northern Region tournament, South County made things a little easier on itself, disposing of Stuart, 3-0, to advance to the quarterfinal round. There, the Stallions will play host to Westfield on Thursday night.
The South County girls' team (10-4-2) suffered a 1-0 loss to West Springfield in its Patriot District title game, as the Stallions were unable to stop a 45-yard try from Jessie Gonzalez in the game's 33rd minute.
But like Gunderman's squad, the girls' team responded with a 3-2 win over Edison Tuesday, advancing to face Chantilly on Thursday night.