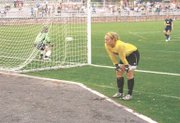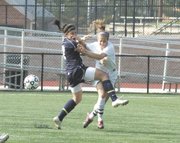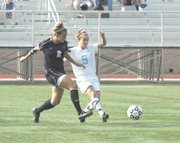 Yorktown goalie Karla Manger, a first team all-National District selection this season, called them "annoying" and that she had been in "too many to count." Her coach, Vicky Blunt, confirmed as much, describing her netminder as someone with "loads of experience."
So when last Friday night's exhilarating back-and-forth National District girls' soccer final between the Patriots and rival Washington-Lee went to penalty kicks after more than 100 minutes of regulation, Manger had already been getting ready for the defining moments of a game neither team deserved to lose.
"In my experience at least, teams don't win in overtime. It could go to overtime, but in my book it's almost always going to PKs," said Manger after she allowed just three goals on five penalty shots and senior Julia Magin scored on the fifth and final kick to give Yorktown a 4-3 shootout victory and its seventh district title in eight years.
What's funny is that both Blunt and W-L coach Ann Cernicek had a feeling the postseason would include a shootout at some point along the line, so they had her teams practice the week leading up to last Wednesday's semifinals.
"[Karla] hates practicing them, though," said Blunt, whose team is 9-7 this season. "She says, 'It doesn't matter how many times we practice stopping a penalty kick, it's pure reaction and it happens in the heat of the moment and you can't recreate that atmosphere.
"All I said to her tonight was 'So how many are you gonna save?' And she said 'More than we're gonna miss.' That's all we said and that's pretty much how it worked out."
<b>WHILE MANGER</b> was voted the conference's best netminder, her counterpart in the W-L net, junior Molly Wolford, wasn't far off garnering second team all-district honors. Manger said she tends to "overthink" shootouts, pointing to a penalty kick scored by W-L's Maddy Farber, a club teammate of Manger's, to start Friday's ultimate decider.
The two had practiced penalty kicks against one another before, so Manger knew Farber liked to go left.
Manger figured her friend was thinking about the same thing and went right. Farber, as expected, went left. But on W-L's second attempt, Enisa Turko hit post, while teammate Catherine Frondorf hit the team's fourth attempt over the crossbar, which proved to be the difference.
"If you don't put away the opportunities that you have, you kind of forced it to end this way," said Cernicek after the Generals dominated possession for much of the game as they tried to avenge their lone district loss during the regular season. "I couldn't have asked for more out of them tonight. The shots and … the opportunities we created were some of the best I've seen all season."
On the other end of the spectrum was Wolford, who couldn't even bear to watch her teammates shoot. She turned her back completely against the field of play until a shot was taken, judging if the penalty kick had gone in by the roar of the crowd.
<b>PERHAPS</b> that apprehension was due to how close the two teams battle was throughout. W-L (14-4 overall) got on the board first thanks to a goal from sophomore Isabel Siemon-Carome midway through the first half. But Yorktown's Logan Knowles answered right back three minutes later, scoring off a corner kick from junior Maddie Meyer.
From there the two squads remained deadlocked, even with two five-minute overtimes and an additional two five-minute sudden death periods. At that point, it all came down to fate.
"Everyone was just going at each other for the whole 80 minutes and then the extra 20," said Manger. "It seemed like whoever got lucky [would win]. Luckily, we did."
Yorktown takes on Annandale in first round regional action Tuesday, after the Connection's deadline. W-L will face Lake Braddock.
<b>Wednesday Update</b>
In first round regional action Tuesday night, Yorktown lost in double overtime to Annandale, 2-1. W-L was done in by Lake Braddock, 5-0.