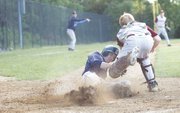 Yorktown senior Tom Brady was approaching the batter's box for the Patriots' final at-bat of Monday night's National District baseball final against Mount Vernon when his coach, Mike Allen, pulled him aside to whisper a question into his ear.
Yorktown had a man on first base and Allen wanted to know whether Brady wanted to bunt him over to second base or take his chances on a possible game-winning hit. Even though he was 0-for-2 prior to that, Brady chose the glory.
And with one swing of the bat, the Patriots had rushed the field in celebration after Brady's walkoff run-scoring double secured a 2-1 victory over Mount Vernon, a No. 1 seed in this week's Northern Region tournament, and the most single-season wins in Yorktown baseball history.
"The hit felt good, especially afterwards," said Brady of his emotions following Yorktown's 19th win of the season, a new school record.
It was all part of a magical night on the campus of the North Arlington school. Less than 10 minutes before Brady's heroics, the Patriot softball team had its own walkoff madness in the district finals, coming from behind to defeat Edison, 4-3, in extra innings after Kimmi Oldham's game-winning single drove home Kelly John.
"It was nerve wracking, it was exciting, it was heart attack city," said Yorktown softball coach Julie Fetter after her team was four outs away from losing the district finals to an Edison team it had defeated twice during the regular season. "I'm very happy, you never know what you're going to get. During the regular season we beat them twice but this is a playoff and anything can happen."
<b>THE BASEBALL GAME</b> was a rematch of a 10-inning classic pitcher's duel between Yorktown's Kyle Toulouse and Mount Vernon's Wyatt Carpenter. When the two teams met back on April 30, Toulouse pitched a 10-inning shutout, while Carpenter teamed with fellow pitcher Mike Murdock to hold the Patriots scoreless for nine-plus innings, but lost when Yorktown scored late to grab a dramatic 1-0 victory.
This time around wasn't much different with Toulouse holding the Majors without a run until the top of the seventh. The senior had provided his team with a 1-0 lead in the third inning on an RBI single that drove in Chris Kyser.
Toulouse, a first team all-district selection at second base and the National District Pitcher of the Year this season, also helped his own cause executing a pivotal pickoff play in the fourth inning when the Majors had men on first and third with one out. The right hander worked out of another bases-loaded jam the very next inning.
But in the seventh, Mount Vernon — which has scored the most runs in the region this season — finally broke through when Andrew Sable singled home leadoff hitter Phil Bryant to tie things up. That's when Brady took matters into his own bat.
"The best thing with this team is any time something goes against them, they always answer right back," said coach Mike Allen. The Patriots will take on T.C. Williams Friday night in first round regional action.
<b>OVER ON</b> the softball diamond, the Yorktown softball team was already exhaling in relief while Brady was rounding the bases following his game winner. After dominating the National District regular season, the Patriots had watched their potent attack go quiet against Edison through five-plus innings.
But in the bottom of the sixth, a hustle play by John beating out a throw to first gave the momentum back to Yorktown. Edison ovethrew first base on the play, so John moved up to second. The next batter, junior Laura Pinkerton, brought her home for the tying run with a double. Then Pinkerton scored what looked to be the game winner after a triple from Oldham.
Edison, though, wasn't going away easily. The Eagles scored another run in the top of the seventh to send things into extra innings. After Yorktown pitcher Annie Blaine held steady in the top portion of the eighth, Oldham stepped to the plate and delivered again, this time with an RBI single to score John for the dramatic 4-3 win.
"Talk about a roller coaster," said Fetter. "It was quite a victory."