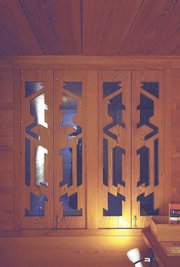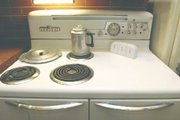 When the Virginia Department of Transportation served Marjorie Leighey with a notice of condemnation for her Frank Lloyd Wright House, she flew into action. The 56-year-old widowed schoolteacher told her story to radio stations and newspapers in a desperate plea for help. This was the early 1960s, and VDOT was in the midst of building a project known as Interstate 66. Construction maps drew a line of demolition right through the 1940s-era house designed by the famous architect with a penchant for modern shapes and organic architecture.
"She felt this house was a work of art," said Peter Christensen, a member of the Pope-Leighey House board of directors and a guide at the museum house. "So she began to speak out."
Leighey's entreaties drew the attention of the National Trust for Historic Preservation, which recognized the importance of saving the house to preserve Wright's work. The nonprofit organization eventually worked out a deal in which it would move the house to Woodlawn Plantation in 1964, where Leighey would continue to live until her death in 1983. Since that time, it has been transformed into a museum on the grounds of Woodlawn Plantation — the Federal-style house near Mount Vernon that was completed in 1805 for George Washington's nephew Major Lawrence Lewis and his bride, Eleanor "Nelly" Custis Lewis.
"On one hand, you never want to move a Frank Lloyd Wright House because the environmental landscape was so important to the design," said Christensen. "On the other hand, there are problems associated with having a museum house in a residential neighborhood."
<b>THE STRETCH OF</b> Locust Road where the house once stood was as rural and secluded when the house was first built in the early 1940s. At that time it was nestled on a tract of land between Arlington County and Vienna. Today, Locust Street dead-ends into a sound wall that muffles daily Interstate commuters. This was where a Washington Star copy editor named Loren Pope commissioned the house in 1939. Pope later sold the house to Leighey and her husband in 1947, where the couple lived for about 15 years before he died. Then VDOT came calling.
"From the standpoint of the history and architecture associated with the house, it would have been nice if we had the house as a museum here," said Midge Wang, a member of the Falls Church Village Preservation and Improvement Society board of directors. "But people usually associate Victorian architecture with Falls Church."
Falls Church has more than 90 Victorian houses, so it might not have been an ideal location for a museum where people could learn about Frank Lloyd Wright's design aesthetic. Then again, a plantation estate from the early 19th century wasn't necessarily an obvious choice either. Over time, the Trust for Historic Preservation has been able to market the houses as a double billing of sorts. For the cost of admission, guests can experience the antebellum life and learn about Wright's vision of a "Usonian" house using environmentally conscious native materials. Think of it as the alpha and omega of American design.
"A lot of people who are interested in Frank Lloyd Wright couldn't care less about a 200-year-old house and vice versa," said Pete Baysinger, a guide at Woodlawn. "But there's an educational value to comparing the two houses, especially for schoolchildren, because you can see where changes have taken place."