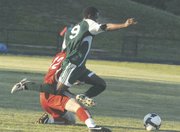 There's no worse feeling for a team than losing a game it controlled much of the way save for one careless mistake. The problem is that predicament happens all too often in the game of soccer, a fact the Wakefield boys' team is just now coming to grips with.
After starting their season 10-0-1 and drawing the attention of the rest of the Northern Region in the process, the Warriors season ended quietly last Thursday evening in a 1-0 loss to Jefferson in the regional quarterfinals.
Jefferson executed a perfect free kick that was headed into the net with 20 minutes remaining in the first half and was content to play defense the rest of regulation as Wakefield got more aggressive and desperate late.
"It's frustrating when we're pushing and playing better and we didn't do anything," said coach Fernando Castro. "Unfortunately we have nice and beautiful opportunities and we don't score. That happens in this sport. What can I say?"
A team made up of players from 12 different countries, spanning four different continents, everything seemed to fall into place for Wakefield (13-3-1) this season. The Warriors won the National District regular-season title, but fell in the district playoffs to a streaking Yorktown squad in the semifinals.
Their bad luck continued against Jefferson, a team Wakefield defeated in a scrimmage during the preseason. Jefferson is now unbeaten in its last 10 matches.
"We had a wonderful season this year," said Castro.
Meanwhile, the Yorktown boys' soccer team continued its late-season surge, defeating Centreville, 2-1, to advance to Wednesday's regional semifinals against Westfield. The match takes place after the Connection's deadline. The Patriots are currently on a six-game winning streak.