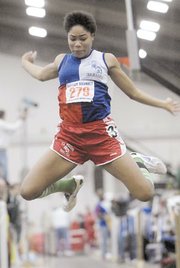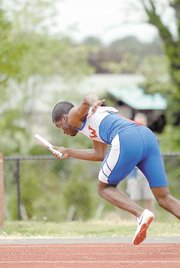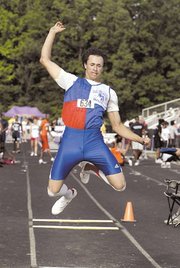 It was the second day of competition at last week's Northern Region Outdoor Track and Field Championships at Lake Braddock High School when T.C. Williams senior Tynita Butts did something she never does. Having already won the long and high jump competition a day earlier and with no more events on her plate that day, she was walking around the track inconspicuously, munching on some well-deserved junk food while chatting with friends.
It's about the only time during her four-year career that the East Carolina-bound star — and owner of the Northern Region Championship long jump record — has been able to circle a track in these parts without grabbing the spotlight from her fellow competitors.
That's what happens when your career hit list includes qualification in four events at the outdoor track and field state meet as a sophomore, a state record and an unprecedented four regional titles at the Northern Region indoor championships as a junior, and two national titles as a senior.
"When she goes to national meets, she's been very good at raising her level to the level of the competition," said Pearl Watts, who ran for Edison High School from 1969-1971 and has been announcing and reporting on area track meets for 30 years. "Her best performances are usually when she has the most pressure. … I don't want to say the sky's the limit, but she has shown that might be the case."
Now with one of her final appearances as a T.C. Williams Titan fast approaching with this weekend's Virginia AAA state meet in Newport News, Va, Butts has tried putting her record-setting career into perspective.
She has a two-feet-by-two-feet cardboard box at home overflowing with just about every ribbon or award she has won since taking to track as a nine-year-old. As she perused through them recently, it occurred to her what rarified air her talents have led her to.
"Wow I was that fast" or "Wow I jumped that high," is how the easygoing senior described her reaction. "It's unbelievable but I've run 12-[second 100-meter dashes] since I was nine. I looked at my numbers and couldn't believe my eyes. I ran faster when I was 12 than I did last year."
And though last week she did not run in the 100- or 200-meter dashes — the two events that could be added to her repertoire when she gets to college — Butts added to her collection with ho-hum wins in the long and high jump. She leaped 19-feet, one inch in the long jump, well below her meet record of 20-feet, four inches set in 2008. Her winning jump of 5-feet-7 was enough to take the high jump.
It helped propel T.C. Williams to a seventh-place finish on the girls' side and a fifth-place finish in the boys' team competition. Butts was the Titans' lone first-place finisher. Afterwards, coach Marshall Edmonds called her "the best athlete I've directly coached" and predicted even more in the near future.
"Potential-wise, not just what she has done, but what she will do if everything falls into place, it's kind of scary what could happen," said Edmonds, adding he thought Butts could have leapt 40-feet and won the triple jump if he wanted to push the envelope trying to get as many team points as possible.
And although Butts has already let thoughts of her career at East Carolina and a possible appearance in the 2012 London Summer Olympics creep into her head, she also has something to prove at this weekend's state meet.
Last year a judge disqualified her in the long jump, meaning she has technically never won the long jump state title, despite holding the state record and two national titles in the event. She hopes to clear six feet in the high jump and pull off a 20-foot, six-inch leap in the long jump this weekend.
With her spectacular high school career almost in the rearview mirror, the safe bet is on Butts.
"As far as jumpers, there's not been another 20-foot long jumper or anyone who could jump as high as her," said Watts.