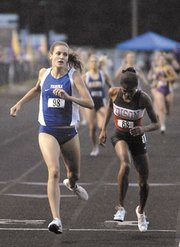 Frances Dowd's greatest challenge during the 800-meter run at last Friday's Northern Region outdoor track and field championships was not a physical one. Sure, her legs were burning as she trailed Edison's Myah Hicks entering the final 200 meters, but Dowd wasn't thinking about how to pass the up-and-coming sophomore.
A senior at Fairfax, Dowd was focusing on how to stay upright.
At last year's region meet, Dowd got a closer-than-necessary view of the track at Lake Braddock Secondary School as she stumbled and fell down the stretch, finishing with an eighth-place time of 2 minutes, 19.29 seconds. As she eventually passed Hicks and neared the finish line Friday, May 22, Dowd, having an impromptu flashback, thought about that moment.
"I was at the point where I was feeling like I was falling," said Dowd of the last-ditch effort that nearly cost her the race. "I have this mental thing where if I feel that way then my body automatically brings me down a notch, and I was like, 'You can't, you can't.'
"I felt my body falter a little bit, but I had to keep telling myself that if I fall, people are going to think I have some sort of problem."
Dowd held off Hicks by a quarter of a second, finishing with a personal-best mark of 2:12.75. With that time, Dowd can now take a serious crack at the Fairfax High School record of 2:12.30 at this weekend's Virginia AAA state championship meet at Todd Stadium in Newport News.
<b>THAT DOWD</b> wasn't trying to conquer some sort of physical hurdle was remarkable considering the week she had prior to the region meet. On Tuesday, Dowd was duped. One of her friends, Katherine Wise, talked her into taking a Zumba dance class at a nearby recreation center.
Though Dowd is a Virginia Tech-bound runner and an accomplished swimmer -- she swam on second leg on the Rebels' two-time state-champion 200-yard freestyle relay team -- Zumba notched a decided win over Dowd's body on Tuesday.
The soreness, coupled with a more-intense-than-usual workout on Wednesday, had Dowd hobbling throughout the week.
"I embarrassed myself and got sore," she said.
Dowd held back for most of the race, careful to conserve energy. At the Southern Track Classic on May 8 in Richmond, Dowd ran her first 400-meter split in 63 seconds. But as she looped around the track again, Dowd's energy was zapped and she finished her second lap in 72 seconds.
So when Hicks started fast, Dowd didn't bite. The ideal number, Dowd said, was 66. Sixty-six-second splits and Dowd could finally repeat the 800-meter region title that she won as a sophomore when she ran a 2:13.43 to upset the race's odds-on favorite, Sarrah Hadiji of W.T. Woodson.
But after winning that race, Dowd reached a bit of a plateau.
<b>AFTER EVERY</b> practice during her junior year, Dowd had a routine. A large sweet iced tea from McDonald's would serve as her own personal version of a cool down; forget about any sort of balanced diet or food-intake chart.
The iced tea habit didn't help given the fact that Dowd was out of shape, either. By her own admission, Dowd's upset of Hadiji was a killer. She didn't take practice as seriously and didn't challenge herself the same way she did as a sophomore. Furthermore, Dowd started to get shin splints during her junior year and was missing significant practice time because of the pain.
"I thought that I did this my sophomore year, and I can do this again," Dowd said. "But last year isn't a predictor of this year. I had to come to terms with that."
Dowd went to the doctor for the pain in her shins and was told that she just needed to deal with it. The pain she felt wasn't going away. So Dowd stopped worrying about the pain, improved her diet and started to avoid those pre-race donuts and post-race trips to McDonald's.
"I know it's a challenge for seniors, but she's been very good about her daily workouts and putting all of her effort into each day," said Fairfax Coach Mark Whalley. "Some kids are just so gung-ho they just don't back down and allow themselves time to rest."
As Dowd passed Hicks, she had nothing but her final obstacle to overcome.
"I told myself, 'Maybe I can actually do a lean [finish]. Maybe I could use a swimming dive move or something," Dowd said. "I've always wanted to do a lean finish, but I didn't know it was gonna be this race."
<b>IN OTHER ACTION,</b> David Ladd of Fairfax finished second in the 100 dash with a time of 10.87, while teammate Kevin Dowd took second as well, clocking a time of 4:18.00 in the 1,600. The Fairfax boys' 4x100 relay team was third as well at 43.68. As a team, the Rebels were 10th with 23 points. Joey Muzzio of Robinson placed third in the high jump with a leap of 6 feet, 6 inches. South Lakes won it all with a total of 75.50 points.
On the girls' side, Robinson's Genamarie McCant took top honors in the 400 dash (55.19) and one of her teammates, Kelly Kavanaugh, claimed second in the 1,600 run with a time of 5:08.84. The Robinson girls' 4x400 relay team took first with a mark of 3:59.39. For more on the Robinson girls' team's second-place finish, visit www.connectionnewspapers.com.