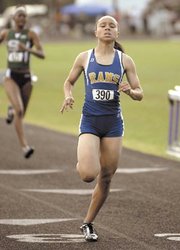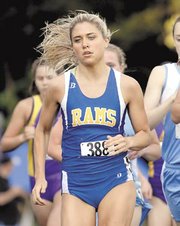 One was missing. As Robinson freshmen Molly Kulbaski, Genamarie McCant and Liz Roberson laid on the ground facing each other, off in the distance near the high-jump pit last Friday at the Northern Region outdoor track and field championship meet, the fourth member of their crew was nowhere to be found.
Chioma Onyekwere is the fourth and missing member of the group, which figures to find much less anonymity than it did at Lake Braddock Secondary School this night, where the foursome would later claim victory in the 4x400-meter relay with a time of 3 minutes, 59.39 seconds.
"It gives us a cool trait, and we have four more years to run better than that," Kulbaski said.
"I didn't even notice we were all freshmen until people started pointing it out," said Roberson.
The group's time was a little more than five seconds slower than the meet-record mark of 3:54.01, held by Hayfield's relay team from 1987. With the fact that Kulbaski, McCant, Roberson and Onyekwere figure to spend three more years together running the 4x100 and 4x400 relays, the Virginia High School League might be altering its records sooner rather than later.
"I think it's really fun that we have an all-freshmen team," McCant said. "If you look toward the future, we could be a really good team when we're seniors and even sophomores. It's really good to look forward to."
<b>AT THE</b> center of the group's success is McCant, the anchor leg who had a breakout winter during the indoor season. There, she won Northern Region titles in both the 300 (40.93) and 500 (1:14.49) dashes while also anchoring the Rams' region title-winning 4x200 relay team, which finished in 1:45.70.
A week after the region meet, McCant won a Virginia AAA state title in the 500 (1:15.15) and her relay team disbanded for the spring. With fellow relay members Jensen Smith, Ali Heck and Audrey Barry all committed to play soccer, McCant was counted upon to lead Robinson's youth infusion at the sprint events.
"That's just kind of the way it worked out," said Rams coach Jeremy Workman. "With what we have on the sprint side, we're real young and talented there. People had to step up and fill the void, and it was kind of exciting to do that. It bodes well for the future."
At the outdoor region meet, Robinson surprised many by finishing second with 44.50 points. Though Lake Braddock won its seventh consecutive region title with 105.50 points, Workman wasn't exactly complaining with the job his team did replacing the likes of Smith, Heck and Barry.
"We lost a lot of firepower from the indoor season, and we were kinda concentrating less on the team and more on individual performances," Workman said. "As the meet unfolded, we saw that we were in the hunt, so I guess there's something to be said for getting those individual performances. … They add up."
<b>BEFORE THE</b> 400 dash, McCant has a routine. If possible, she'll drift off into her own part of the stadium and focus on how she'd prefer those 55 seconds to unfold. Conversely, before either of the two relays, McCant likes to surround herself with Kulbalski, Roberson and Onyekwere, with each trying to upstage the next in excitement.
With a clear head, McCant took to the track for the 400 dash. A week ago at the Concorde District championship meet, McCant raced Roberson to the district title, beating her out with a personal-best mark of 56.68. Roberson, meanwhile, clocked a 1:01.43.
At the region meet, McCant started strong, pulling ahead of Lake Braddock's Becca Sinichko before Sinichko pulled even halfway through. From there, McCant exploded and nearly missed the meet record of 55.15, set by Lake Braddock's Cathron Birge in 1985. McCant's time was 55.19.
"It's very impressive for a freshman to be running those times," Workman said. "She's a tremendous talent, and she's been a good team player all season. So that's exciting to see. The sky is the limit for her."
McCant lets it roll off of her back. Yes, she has fun running. Yes, she wants to win. No, she doesn't let it go to her head. While she's busy making a name for herself on the track, McCant is content just lying on the ground and goofing off with her relay team.
"I'm just trying to stay humble," McCant said. "I'm not really a person to brag a lot. I just try to keep everything in perspective and to keep having goals."
<b>IN OTHER ACTION,</b> Robinson's Kelly Kavanaugh claimed second in the 1,600 with her time of 5:08.84. Loren Dyer of South County finished third in the 200 dash at 25.96 and third in the 400 dash at 56.97. With 22 points, the South County girls' team finished 14th. To read more about the Lake Braddock girls' team's seventh straight region title, visit www.connectionnewspapers.com.
South County's Ronald Johnson took second in the 400 dash (50.15), while teammate Brian Allen captured second in the 800 run (1:56.28) for the Stallions, which recorded 43 points and placed third. The team's 4x400 relay took second at 3:21.49 as well. Robinson's Joey Muzzio took third in the high jump with his mark of 6 feet, 6 inches.
For Hayfield, Tyler Sturgill took third in the shot put (50-09 1/4) and second in the discus (157-06), while Elbert Maxwell placed second in the high jump at 6-07. With 46.83 points, Hayfield's boys' team was sixth. South Lakes won the meet with 75.50.