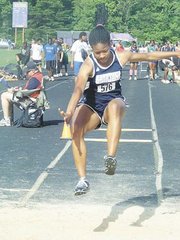 When West Springfield senior Amalya Clayton first started taking the long jump seriously as a sophomore, one piece of advice stuck out above the rest. While distance was important, she should think about jumping high when launching into that pit of sand. That'll translate into distance.
Clayton, a soccer player since age 5, imagined herself doing what she does when she heads a soccer ball, jumping straight up into the air and exploding with her legs.
Soon, Clayton's track and field performance improved, and she even jumped a personal-best 16 feet earlier this season at the Lake Braddock Hall of Fame Invitational on April 17-18. That jump was a significant improvement upon her first official mark of 14-11 1/2.
On the soccer field, Clayton, a James Madison University recruit, has been even more impressive, scoring 14 goals for the Spartans on a team that recently defeated defending Virginia AAA state champion Robinson, 2-1, in a Northern Region quarterfinal matchup on Thursday, May 21 and captured its third straight Patriot District title one week earlier. A striker, Clayton's blazing speed and athleticism has led to many of West Springfield's goals.
As one of an ever-shrinking number of dual-sport athletes, Clayton elected this year to do both in the same season for a change.
"It's not too bad. It's not as hard as people would think," said Clayton, whose soccer team played host to Oakton Wednesday night in a contest that ended too late for this edition. "It's kind of hard to make practices, which makes it harder to get better. But I'm trying the best I can."
With either soccer practice or a game every day after school, Clayton spends the majority of her time during the spring on the middle of West Springfield's football field. But on the occasional Tuesday, Thursday or Friday, Clayton will sneak in a short workout with jumping coach Alesha Luzzi.
Logistically, these competing careers have been made possible by virtue of the fact that most of West Springfield's bigger track and field meets happen over the weekend when Clayton has fewer high school soccer responsibilities. The less-emphasized quad meets, meanwhile, happen during the week.
<b>PERHAPS WITH</b> no other coach would this arrangement work so well. Luzzi, a 2007 West Springfield graduate, was a softball-turned-track star during her day. In the winter, Luzzi anchored the Spartans' 4x200-meter relay team. She was also the team's top option in the 55 dash, long jump and triple jump.
Clayton has the same résumé, with the only notable exception being that she's more of a triple jumper and Luzzi the opposite. But after watching Luzzi juggle both successfully, West Springfield coach Chris Pellegrini, who coached Luzzi, offered the same sort of deal to Clayton.
"She's such a gifted triple jumper that it didn't seem to have any impact," Pellegrini said. "At the regional meet this past weekend, she's jumped the second-farthest that she's ever jumped."
That jump was 34-06 and it had Clayton ranked eighth. She missed out on the top-six state cut but the jump was her best this spring and only nine inches off of her personal-best mark, set last spring during the state championship meet in Newport News.
Clayton hasn't struggled to adapt physically, at least on the field anyway. She tries to ice her hamstrings and quadriceps as often as possible, which becomes even more difficult with the fact that she plays on a high-level club soccer team, FC Netforce, too. Those practices generally run from 7:30-9 p.m. three times a week, although Clayton's club soccer coach has been understanding with her rigorous dual-sport schedule.
"I think that says a lot about her as a student and as a person to be able to do all that stuff along with keeping her grades up and handling every else that comes up as a senior," said West Springfield girls' soccer coach J.T. Alukonis. "She's able to keep all that on her plate and not only do it all but do it successfully."