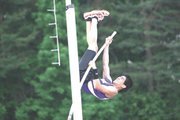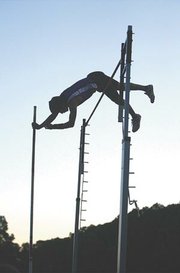 Curtis Sun didn't have much of a choice. When his twin brother, Wesley Sun, started pole vaulting as a freshman at the behest of a neighbor -- former Chantilly vaulter Dominic Lauchengco -- Curtis Sun, though he might not have known at the time, would eventually be unable to resist the competition.
Whether it's basketball, football or Scrabble, the Sun brothers, now seniors at Chantilly High School, try to beat each other at everything. And pole vaulting is no different.
"We're really competitive," Wesley Sun said. "We both do sprints too, so we're always competing in that. He's faster than me in some of the shorter events, but I can beat him in the other ones."
In addition to being competitive, the past two weekends have proven that Wesley and Curtis Sun are talented, too. At the Concorde District championship meet on May 14-15, Curtis Sun took first with his 13-foot mark. His brother, because of a sore hamstring that has been bugging him for most of the season, sat out.
A week later at the region championship meet at Lake Braddock Secondary School, Wesley Sun bounced back, taking top honors with his vault of 14-06. Curtis Sun, meanwhile, was third at a personal-best 14-0.
"Top two in the region would've been awesome," Wesley Sun said. "We were pretty close."
While Wesley Sun has been pole vaulting for his entire high school career, Curtis Sun didn't start until his sophomore year after spending that first winter on Chantilly's swim and dive team. At the track and field meets that Curtis Sun attended, he watched his brother. He thought he could beat him. So he decided to try.
<b>CHANTILLY'S JUMPING</b> coach Nick Burgoyne watches the pair every day at practice, and admits that the two, naturally, are very similar. A former Chantilly vaulter himself, Burgoyne insists that he can see that Curtis Sun's career trajectory is just slightly behind that of his twin brother, a sure sign attributable to his missed seasons.
In addition to that freshman campaign, Curtis Sun missed the outdoor track and field season during his sophomore year because of a stress fracture in his back. Then this past winter, Curtis Sun skipped the winter season to take up, of all things, boxing.
"I see Curtis coming up the same way Wes did, and he's progressing along the same timeline as Wes did," Burgoyne said. "It's awesome but I kinda wish he didn't box for a season. I kinda wish he didn't swim for a season or he didn't get hurt for a season. Then they'd both be 15-foot vaulters."
Despite the competition, both Sun brothers enjoy watching video of their performances together at home. Each can pick out specific mistakes and offer his own version of a correction. With a few more seasons under his belt, Wesley Sun often finds himself coaching his twin brother. And after joining the team, it didn't take long for Curtis Sun to improve.
After maxing out at 11-6 during the winter of his sophomore year, Curtis Sun returned from the back injury with a 13-0 season-best mark during the Concorde District championship meet of the spring season in 2008, finishing second to his brother's 13-06 mark.
This spring, Curtis Sun matched that 13-06 height at the Lake Braddock Hall of Fame Invitational on April 17-18. Still, Wesley Sun took first that day at 15-0 -- his current personal-best mark. Then with Wesley Sun out with the hamstring injury, Curtis Sun had the spotlight all to himself at the district meet.
"When I first started, he was better than me," Curtis Sun said. "But as I got better he got better, and it became more of a competition thing. I didn't win as many meets as him, but I beat him once or twice and that was fun."
<b>IN OTHER ACTION,</b> Julian Bellamy of Westfield took second place in the long jump with his leap of 22-01 1/4, as the Bulldogs finished 18th with 13 points and South Lakes won its second straight region crown with 75.5.
Westfield's Kaylin Newman paced the girls' team, finishing second in the shot put with her throw of 36-03 3/4 and second in the discus at 107-01. Sarah Meier of Chantilly took third in the shot put at 33-06 1/4. Westfield's girls' team was 12th with 25 points, while Lake Braddock won its seventh straight region title with 105.5.