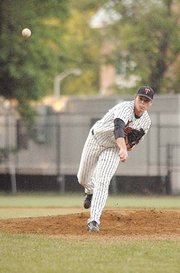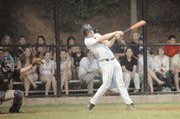 Normally when a coach is soaked in a postame Gatorade bath, it means a championship of some kind has been won. But even though T.C. Williams manager Andrew Simpson found himself drenched following a first round regional playoff win over Yorktown last Friday, it doesn't mean he got wet for no good reason.
Though the Patriots' season ended this past Monday with a double-digit loss to Chantilly in the Northern Region quarterfinals, wins like those over the Patriots will be what this team will be remembered for.
In fact, the 7-1 victory over Yorktown was the first time in more than a decade T.C. Williams had ever advanced past the first round of the regional tournament. It also gave the Titans 12 total victories and an above .500 record identical to last year's 12-11 campaign, representing the first time since 1975 and 1976 the T.C. Williams baseball program has had back-to-back winning seasons.
If that isn't enough, let Simpson justify the bath instead.
"No one in our dugout was even alive the last time T.C. baseball had back-to-back winning seasons, the coaching staff included," said the first year manager, who also ended the year with the most wins for a rookie coach in program history. "I may have been the only one, but I expected us to win 10 or 12 games. Last year's team won 12 and I thought we could reach that."
<b>THAT'S QUITE</b> the accomplishment when put into context with the recent past of Titan baseball. Heading into this season, the team had just a 45-107 record since 2001. And much of last year's team that actually finished above .500 graduated last spring.
It left Simpson with a roster so devoid of seniors that against both Yorktown and Chantilly in the playoffs, he put out a starting lineup featuring six underclassmen and no seniors. What they lacked in experience, though, they made up for in talent at the plate.
The Titans, who feature three players with a batting average above .400 and an on base percentage over .500 (junior Matt Kilby, junior Adam Forrer, and sophomore Travis Clark), not only chased Yorktown starting pitcher Dean Johnson with their potent lineup, but also got to Patriot senior Kyle Toulouse, the National District Pitcher of the Year and co-region player of the year. Forrer finished with three hits, while Kilby had three RBIs. Kilby's 37 RBIs during the regular season were the most in the entire region.
And even though T.C. Williams fell short, losing 13-0 to Chantilly the next round thanks in large part to a seven-run second inning by the Chargers, there's no denying these Titans accomplished something that can serve as a foundation for the future.
"Nobody expected us to win, nobody expected us to do anything in the regional tournament because we're so young," said Forrer. "So we had nothing to lose and we went out there and gave it our all."
<b>NOW, T.C. WILLIAMS</b> looks to the future. The one good thing about throwing out a lineup featuring entirely non-seniors is that they'll all be back next season, with one more year of experience under their belts.
But while the regional tournament was a historic occasion for these Titans, it also highlighted their main flaw — pitching depth. In the 7-1 win over Yorktown, sophomore ace Steven Weidman (6-1 this season) pitched a complete-game in which the lone run came off a solo homerun. However, in the loss to Chantilly, it took three pitchers just to get T.C. Williams out of the second inning.
Still, when Simpson and his staff — most of who came on as assistants in 2005 — have alums excited that the Titans are "playing meaningful baseball in May for a change," there's no denying progress has been made.
As for the Gatorade bath, perhaps the best way to judge if it was appropriate will come later. The next time Simpson gets wet could be celebrating an actual championship, something that didn't seem possible just a few months ago.
"This team scraped and clawed for everything they got," said Simpson. "We were knocked down and beat up badly on more than one occasion and it never shook their confidence or spirit. … What was raw talent in February now has some experience and exposure to draw from. There won't be nearly as many firsts, and growing pains, and teachable moments next season."