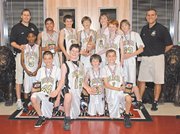 <b>GMU Nabs At-Large Bid</b>
The George Mason University baseball team earned an at-large bid to the NCAA tournament on Monday, May 25, securing an opening-round date Friday with South Carolina at 3 p.m. The third-seeded team in the Greenville, N.C. Regional, the Patriots will be making their first tournament appearance since 2004 and sixth overall. During that span, they are 1-10. George Mason has a record of 42-12 this spring and set school records for both wins and winning percentage (.778). Only seven schools in the country have more wins than Mason's 42.
<b>Robinson's Shaw on ESPN</b>
Robinson graduate Dorian Shaw will lead her University of Michigan softball team in an NCAA Women's College World Series game Thursday, May 28 against Alabama. The game will be broadcast on ESPN at 6 p.m. The Wolverines swept a Super Regional series against Baylor last week to reach the WCWS. Shaw has a school-record 14 homeruns this season and five have come in the postseason. She's also third on the team with a .597 slugging percentage. At 41-10, Michigan is ranked No. 7 in the country by the most current USA Today/NFCA Poll.
<b>Shabaz a National Champ</b>
University of Virginia sophomore tennis player Michael Shabaz, a Fairfax native, won the NCAA doubles championship on May 25 at the George Mitchell Tennis Center in College Station, Texas. Shabaz teamed with Dominic Inglot to defeat the No. 2 seeded team from Tennessee, 3-6, 7-6 (4), 6-4 in the championship. They were the first unseeded team to win the title since 2003. Shabaz and Inglot dropped the first set but rallied to win the tiebreaker in the second set. They took that momentum into the final set to seal the victory. To get to the finals, Shabaz and Inglot took down two other seeded teams, including the No. 1 seeded pair from Mississippi. Prior to the tournament, Shabaz and Inglot were ranked No. 12 in the nation. With the championship, Shabaz and Inglot set the University of Virginia record for wins in a season with 41. They had only eight losses on the year.
<b>Colonials Finish Strong</b>
The Jefferson men's first eight boat had something to prove at the National Scholastic Rowing Association Regatta in Mercer, N.J. last weekend. For much of the season, the Colonials had experimented with fours but returned to eights for the Virginia State Regatta — a cup they had held for a decade. After finishing third behind Yorktown and St. Albans, the eight raced again at Stotesbury, advanced to the semifinals and then headed to New Jersey for the season-ending crew race. There, Jefferson reached the petite final with its two local rivals as well as boats from Canada, New Jersey and Pennsylvania. In a photo finish, Jefferson finished second behind St. Albans and Yorktown. The quick rebound and success of the varsity eight, which includes Dan Ranard, Chris Zeng, Connor Finch, Nolan Pollack, Nader Al-Naji, Thomas Georgiou, Will Richhart, Dan Granados and coxswain Ashu Goel, and the large number of returning rowers from both the men's and women's boats all give Jefferson plenty of reasons for optimism in the years to come.
<b>Nereids Claim Medals</b>
The Northern Virginia Nereids synchronized swimming club medaled in 20 of 21 events it entered during the 2009 regional championships in Alexandria on Sunday, May 17, totaling 14 gold, eight silver and five bronze medals. All nine age-group level Nereid solo, duet, trio and teams qualified to advance to the eSynchro Age Group Championships to be held in Gainesville, Fla. in the last week of June. The 13- to 15-year-old Intermediate team took first place, with four swimmers placing in the top eight. The 11- to 12-year-old Age Group team placed seven swimmers in the top 10 and won gold in every even it entered. The 13- to 15-year-old Age Group team earned silver, as well as a spot into nationals. And the 16- to 17-year-old Age Group team, consisting of Nereid stars Kara Gadeken and Julia Peters took gold and silver, respectively, and led Nereid routines to gold in solo, duet, trio and team routines.
<b>Krause Selected</b>
Cheryl Krause, a senior at South County Secondary School, earned a spot on the 16-member U.S.A. Taekwondo Collegiate Team that will compete at the 2009 Summer World University Games on July 1-12 in Belgrade, Serbia. Krause won the spot during double-elimination trials at the Olympic Training Center in Colorado Springs, Colo. on Saturday, May 16. The 2009 World University Games Trials included 43 top Taekwondo athletes elected from the top four finishers in each division of the National Collegiate Championships. In the double-elimination tryout, Krause lost her first match by one point but came back strongly to win her next two matches. Krause won gold in the 2009 Buffalo National Qualifier. In 2008, she won silver at the Toronto Open, bronze at the Junior Olympics and silver at the Daytona National Qualifier.
<b>Lacrosse Tryouts</b>
NoVa West Lacrosse is conducting registrations for its summer camps, clinics and indoor league play. Camps and clinics will take place in June and July. As the exclusive provider for lacrosse in the new Purcellville Sports Pavilion indoor facility, NoVa West will be hosting summer, fall and winter indoor leagues for U-13, U-15 and high school-age boys. For more information or to register, visit www.NoVaWestLAX.com
<b>Soccer Tryouts</b>
To evaluate players for the 2009 fall season, the Gunston Soccer Club will offer a series of tryouts at Grist Mill Park. Players should bring shin guards, water and a ball. The schedule is as follows: boys' rising U-9 (born on or after Aug. 1, 2000) on June 1 and 3 from 5:30-7 p.m.; boys' rising U-10 (born on or after Aug. 1, 1999) on June 1 and 3 from 7-8:30 p.m.; boys' rising U-11 and U-12 (born on or after Aug. 1, 1997 and 1998) on June 8 and 10 from 5:30-7 p.m.; boys' rising U-13 and U-14 (born on or after Aug. 1, 1995 and 1996) on June 8 and 10 from 7-8:30 p.m.; boys' rising U-15 and U-16 (born on or after Aug. 1, 1993 and 1994) on June 9 and 11 from 5:30-7 p.m.; boys' rising U-17, U-18 and U-19 (born on after Aug. 1, 1990-92) on June 9 and 11 from 7-8:30 p.m. Girls' rising U-9 and U-10 (born on or after Aug. 1, 1999 and 2000) on June 2 and 4 from 5:30- 7 p.m.; girls' rising U-11 and U-12 (born on or after Aug. 1, 1997 and 1998) on June 2 and 4 from 7-8:30 p.m.; girls' rising U-13, U-14 and U-15 (born on or after Aug. 1, 1994-96) on June 9 and 11 from 5:30-7 p.m.; girls' rising U-16, U-17 and U-18 (born on or after Aug. 1, 1991-93) on June 9 and 11 from 7-8:30 p.m.
The U-11 Chantilly Youth Association Scorpions (NCSL-Division 2) will host open tryouts for the fall season on June 3 and 10 from 6-7:30 p.m. the at Word of Grace athletic fields. Interested players should contact Coach Baumgardner at cyascorpions@yahoo.com for more information.
<i>The Connection's Alexis Deegan contributed to this report.</i>