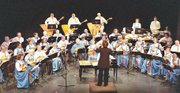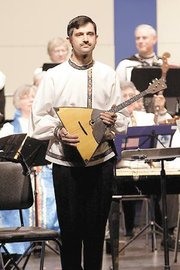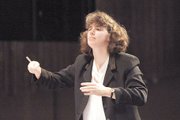 Think Russian folk music. Think "Dr. Zhivago." Think all-volunteer, unpaid musicians ages 8-80. That's the Washington Balalaika Society.
The 65-member orchestra is celebrating its 20th anniversary this year with the spring concert, "Those Were the Days," on Saturday, June 6 at the Rachel M. Schlesinger Concert Hall, Alexandria campus of Northern Virginia Community College. Members of the 90-voice Metropolitan Chorus will also be performing in Gliere's Hymn to a Great City and Borodin's Polovtsian Dances from the opera "Prince Igor." Barry Hemphill is its director. Alexandria's Mayor Bill Euille will welcome the audience.
For the unfamiliar, popular Balalaika songs are "Sabre Dance," "Moscow Nights March" and "Those Were the Days."
"It is emotional music. It's music that you tend to remember," said founder Max McCullough, 72, of McLean.
He adds: "Russian music, mostly in minor keys, is either sad or happy music with a sad sound that really reflects the long 2,000 years of suffering and toil as the history of the Russian people."
McCullough moved here from Houston where he was president of the Houston Balalaika Society with his wife Francie Fite, a divorce attorney. They organized the group with the help of Joel Leonard of Alexandria. With only eight musicians at the start, the concerts were informal but quickly earned notices. A life-long amateur musician, McCullough would learn to play almost all of the stringed instruments and be conductor for its first 14 years.
"Because we were here in our nation's capital, we attracted some attention," said McCullough.
One of the first shows was at The Birchmere and one of the earliest successes was pairing up wit the Paul Hill Chorale at The Kennedy Center, which is now called the Master Chorale of Washington.
A milestone came in 1998 when they were selected to help celebrate the 850th anniversary of the founding of Moscow at Carnegie Hall.
Organizer Joel Leonard, 70, of Alexandria said he found people from the Tacoma Mandoliers who could play mandolin, and trained them on playing the domra. The first real concert was at Langley High School.
"As soon as people found out about us, we were in demand from the very beginning," said Leonard.
What is it about Balalaika music that's inspiring? "It's the richness and emotionalism of the music. I loved it the minute I heard it," said Leonard.
He adds: "We try to maintain our focus on the traditions of the great folk orchestras of Moscow, St. Petersburg, and use the same arrangements."
Leonard discovered that his parents were of Russian and Ukrainian decent, but never talked about it when he was growing up. "They were Jews who were forced to immigrate."
While conducting a two-year search for the Russian conductor, Svetlana Nikonova, 42, they formed a guild and started fund-raising and going after grant money. Leonard calls her "very gifted … She pushes you to sound better and better," he said.
Once they hired Nikonova to be artistic director in 2003, they made the leap to sounding more professional.
Playing since the age of 6, Nikonova attended the musical college and conservatory in St. Petersburg. By age 30, she was conducting the top Russian folk orchestra in her country. Her husband plays bayan (accordion), daughter Vavara plays percussion and son Zachar plays cello.
"Since we are a Russian folk instrument orchestra, we are trying to play more Russian music with Russian composers," she said. "We are trying to bring the spirit of Russian music and culture here."
She says she teaches mostly English-speaking Americans how to "feel the phrase" — how to interpret the Russian folk traditions.
"Most Russian songs are sad but we have a lot of happy songs," she says. "It's like every culture ... We have a lot of sad music stories but we also have a happy side of the culture."
<b>FALLS CHURCH RESIDENT</b> Andrei Saveliev, 45, has been playing the Balalaika instrument all of his life. He's also a Balalaika music teacher. A graduate of the St. Petersburg Conservatory, he moved here in 1997 from Russia and works by day for Ikea.
He says Balalaika music, with its lush, soulful melodies, was more popular over the Russian radio about 30 years ago than it is today. He compares the faster Balalaika songs to American square dance music because of its rhythms; it's what farmers used to play for entertainment after a long day in the fields.
Saveliev enjoys bringing the "Russian experience" to American audiences. "We were raised on those melodies," he said.
Teresa Allen, 51, of Fairfax is a general internist by day who plays the prima domra in the WBS. She started out playing violin and mandolin and didn't even know what a domra was. "I walked in with minimal knowledge and found that they were so open and helpful, and I feel like I really progressed in the last few years."
She adds: "It's really nice to be able to join a group and know relatively little about a particular type of music and to grow with that and to learn."
Board Member Elizabeth Gardner of Arlington was trained in opera and classical music then switched to playing instruments. After taking guitar lessons from a Ukrainian who was the concert mistress of the Washington Balalaika Society, she says she got hooked on the orchestra.
"It's difficult enough to keep it interesting," said Gardner who plays the tenor domra, "but not so difficult that it's frustrating as a player."
She adds: "The folk music of Russia is much more complex than the folk music of the United States. The chord structure is more complex."
"The majority of the Russian folk music is in minor keys and there are three different versions of the minor scales ... that allows for more variations in melodic lines," Gardner said.
One of the perks of the WBS is it has several smaller ensembles that get hired to play at public events, like the Northern Virginia Arts Festival last week. There's also a Children's Music Academy that teaches children ages 7-14 to play Russian folk instruments. Classes are taught by Nikonova and meet Saturday afternoons once a week. Tuition for the children's academy is $60/month plus instrument rental. Call 703-644-9151.