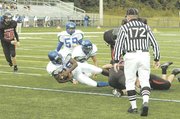 John Ellenberger, the South Lakes High football coach, believed his team could defeat two-time defending Div. 5 Northern Region champion Stone Bridge in a first round playoff game last Friday night despite the fact that his Seahawks had lost a lopsided affair to the same Bulldogs' team, 45-22, one week earlier in the final week of the regular season. He believed if South Lakes could play a more efficient game by cutting down on mistakes and successfully utilizing its talented group of skill position players by hitting on some big plays, the Seahawks might have a chance to pull off a postseason upset.
"We felt we could make some changes from that game," said the coach. "We said, `Hea, if we correct some things we can beat these guys."
But it turned out Stone Bridge proved too formidable an opponent in the quarterfinals playoff affair. The Bulldogs took command early on and defeated South Lakes, 28-7, to move on to this week's Div. 5 semifinals. The Seahawks, with the loss, finished the season with an overall record of 5-6.
"We played with those guys for a half," said Ellenberger, whose team trailed by just a 14-7 score at halftime. "We felt pretty good."
But Stone Bridge (10-1) outscored South Lakes 14-0 in the second half to gain the victory.
The game, following several days of rainy weather, took place at a neutral site on Marshall High School's field off route 7 in Falls Church.
Marcus Harris, one of the region's top running backs, rushed for 123 yards on 27 carries with two touchdowns, including a seven yard scoring run to give Stone Bridge a 21-7 lead in the third quarter. The Bulldogs went on to score another third quarter touchdown on a three-yard scoring run by Kyle Gouveia (74 rushing yards).
South Lakes' top ball carrier was junior Ja'Juan Jones (9 carries, 67 yards), who accounted for the Seahawks' lone touchdown – a 15-yard scoring run in the second quarter that, following Erich Belt's extra point kick, tied the game at 7-7. The Seahawks' next leading ball carrier was Darius Smith, who ran for 57 yards on 10 carries.
Stone Bridge took the lead for good before halftime when quarterback Brian Rody tossed an eight yard touchdown pass to Taylor Lambke.
STONE BRIDGE, on its first possession of the game, put together an impressive scoring drive in which its offensive line made an impressive early statement.
"They were just better than we were up front," said Ellenberger. "It seemed they ran the same [running] play 10 times [on the drive]. We just couldn't stop them. I think they're as good as we've seen."
South Lakes was playing without injured starting inside linebacker Lance Petit, a senior, who had injured a knee in the third quarter of the previous week's game against the same Stone Bridge team.
South Lakes, which began the season 5-1, struggled over the latter half of the season. The Seahawks lost their final five games, including the playoff game. Two of those losses were close games – 27-22 to Fairfax, and 24-21 to Langley, both district defeats coming at home.
"We just played some good teams," said Ellenberger, of the losing streak to end the season.
Still, the five wins was one of South Lakes' better overall win totals in recent years. Ellenberger said this year's team was a total joy to work with.
"Our kids did a great job this year and we were happy to make the playoffs," said Ellenberger. "Most of them worked their tails off in the offseason. They are good kids of character. I'm going to miss this group."