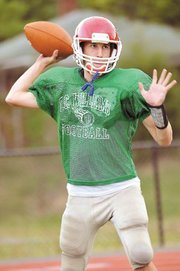 Doug Murphy celebrated the Titans' opening drive with a pump of his fist and a vocal release of emotion.
The junior quarterback, making his first varsity start for the T.C. Williams football team, provided the offense hope of a breakout performance early in Friday's game at West Springfield. First, it was a 56-yard pass to Israel Richardson on third-and-six. Five plays later, Murphy battled his way into the end zone for a 2-yard touchdown and a 7-0 Titans lead. For a team struggling to solidify the quarterback position, Murphy's early execution — and ensuing celebration — was a good sign.
"I was really pumped up when we scored on our first possession," Murphy said. "It felt great just to score a touchdown on the varsity level."
Despite the promising start, T.C. Williams' offensive struggles would continue as the Titans turned the ball over five times en route to a 15-14 loss to the Spartans. T.C. Williams (2-3 overall, 0-2 Patriot District) turned the ball over six times the previous week against Lake Braddock, though one came on special teams.
Murphy completed 8 of 18 passes for 158 yards but was intercepted four times. After T.C. Williams gained 80 yards on its opening drive, the Titans were limited to 125 the rest of the way. T.C. Williams had to travel only nine yards for its second touchdown — a 1-yard run by Robert Carter — after Richardson set up the Titans with an 83-yard interception return.
Despite his struggles, Murphy was on target late in the game. With the Titans trailing by one in the final minutes of the fourth quarter, Murphy fired a deep ball up the left sideline, but the intended receiver dropped the pass.
T.C. WILLIAMS head coach Dennis Randolph said poor reads led to Murphy's four interceptions. The coach also said Murphy's overall performance wasn't bad.
"He graded out at about 70 percent. … He made four critical errors," Randolph said. "But also, at the end, he hit a guy going down the sideline who, if he had caught the ball, would have outrun everybody and scored to win the game. His [Murphy's] evaluation would have been a lot different had that taken place, but you can't fault him because a guy dropped the ball. … Overall, I think he did pretty well. I'm not going to say he did great, because four interceptions is not a great performance.
"His confidence was a little shaken after those interceptions, but he came back and threw one ball … right in the guy's hands and he dropped it."
Murphy's start came as Randolph looks for more offensive production — especially from the passing game. Starting quarterback Joe Hargrove suffered a wrist injury before the season and has yet to play. Randolph said Hargrove could return for the Titans' final three regular season games.
Murphy is one of four Titans to play quarterback this season, along with John Bray, Cortez Taylor and Carter, but none have experienced much success. Bray has struggled with interceptions. Taylor and Carter were moved from other positions in an attempt to spark the offense with their ability to run.
Randolph said Tuesday whichever quarterback is more successful at moving the ball during practice would start Friday against Annandale. Regardless of who starts, the coach said the Titans need to run the ball better and give Taylor a chance to make plays. Opponents have been focusing on the speedy Taylor, who is a threat to score every time he touches the ball.
"Cortez, people are keying on him a little bit so he hasn't been as productive as he was early," Randolph said, "so we need to get his confidence up so he can get the ball and take off and run — that's what he does best."
TAYLOR SAID that with limited opportunities of late, he looks to do as much damage as possible whenever he touches the ball. He also said he should be able to make a difference no matter where he lines up.
"I feel as though if I'm able to play all the positions — quarterback, running back, wide receiver — there's no way anybody can key on me," he said. "So right now that they're keying on me, I'm just going to be a factor as a wide receiver and just be a decoy for the rest of my players to be successful.
"The first two games it was easier [to gain yards] because they weren't keying on me as much. But the past couple weeks, they've been keying on me so every time I do get the ball it's like I'm working 110 percent just to get as many yards as I can."
T.C. Williams was held to one offensive touchdown Sept. 17 in a 15-9 win over Oakton. The Titans scored 26 points in a Sept. 26 loss to Lake Braddock, but quarterbacks threw five interceptions. How can the offense improve? Taylor had a suggestion.
We need to "trust the quarterback," he said. "I don't think everybody is trusting who we've got in right now. But when we do that, we'll be all right."