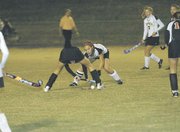 Westfield High School field hockey player Kelsey Grainer is one of the Bulldog's top midfielders, but her coach Terri Towle wonders if at times she holds back.
"She has a sure stick and a strong hit," Towle said. "But there's times when I wonder if she's held back and should just smack the ball. A lot of girls will not be able react to her shot. Her shot will take people by surprise."
On Oct. 5 against Herndon High School, Grainer delivered the offensive performance her coach was hoping for, leading the Bulldogs to a 4-0 victory with a three-goal performance that is known as a hat trick.
"It felt great to get the hat trick," Grainer said. "The most goals I've ever scored in a game were two against Robinson Secondary School."
Further making her performance a spectacle was that all of Grainer's goals came in the first half.
The first goal came less than two minutes into the game when Grainer collected a loose ball in the shooting circle and beat the Herndon goalie.
Grainer's second goal came from a penalty stroke.
"One of the Herndon girls' foot hit the ball and knocked the ball out of bounds," Grainer said.
From the center of the shooting circle, Grainer lined up next to the ball and then put it in the top right corner to give Westfield a 2-0 lead.
Grainer said that before the game even started, she knew where to place the ball if a penalty stroke occurred.
"Before each game I check out to see where the opposing goal is strong and weak," she said.
With 6:15 left in the first half, Grainer completed the hat trick, three goals by a single player, by scoring during a penalty stroke.
The ball was hit inbounds and then Grainer collected the pass before sending another booming shot past the Herndon goalie.
It wasn't a coincidence that Grainer was at the helm of the penalty corner play. Senior forward Molly Gift said the team used the Herndon game to work on various plays for upcoming opponents.
"Usually we have three top hitters and we select who hits on the penalty corner between them," Gift said. "Tonight was her night, she was really good [on the penalty corners]."
While Grainer's three-goal game suggests that she is an offensive juggernaut for the Westfield team, she is actually one of the Bulldogs' best two-way players.
"I try to bring a lot of intensity to the game," Grainer said. "I want to keep everyone going and help out on both sides of the ball."
Grainer also was a key component in keeping Westfield on the attack, and her excellent passing skills helped create offensive rushes.
"She can hit the ball cleanly and well," Towle said. "She's a center midfielder so we expect her to have strong offensive and defensive skills. While I want everyone to have strong offensive skills, you want your midfield to be especially good at them."
The match with Herndon was the first of three in a grueling week for the Bulldogs, but Grainer was confident about the team's chances to go 3-0.
"We have three games this week and one coming on Monday," Grainer said. "We had to start strong to end strong."
Although the performance against Herndon might inflate some team's egos, Grainer vowed that the team would not overlook upcoming opponents.
"We have to make sure that we keep the same intensity we had tonight," Grainer said. "We can't get too high on ourselves. If we just play our game and keep playing strong, we'll be okay."
Coach Towle echoed Grainer's sentiments.
"One of the difficult things about [the Concorde District] is that you have to be prepared for every game," Towle said. "You can't look beyond to senior night, you can't look beyond for who you think your big rival is."
With the long week of field hockey ahead, Towle said she is taking measures to remind the girls to take each game one at a time.
"It's a long week, but I've yet to say anything about upcoming teams," she said. "I just tell them, 'Who's our next game?' and then tell them to prepare for that game. You can't get ahead of yourselves."
Westfield is now 12-1 on the season and concludes its season against Chantilly High School (9-4-1) on Oct. 12 and Fairfax High School (9-4) on Oct. 15.