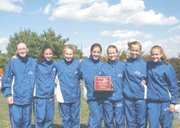 The West Potomac girls cross country team took first place at the Octoberfest Invitational on Saturday at Great Meadows Course. The Wolverines finished with 187 points, 34 better than second-place Bishop O'Connell.
Wolverine co-captain Julianne Bigler led the team with an eighth-place finish, recording a time of 19 minutes, 2 seconds.
"She's gotten better every single week," West Potomac coach Don Beeby said, "so I'm encouraged by her performance."
Sarah Jane Underwood placed 32nd for West Potomac with a time of 19:53. Dale Lescher was 39th (20:03), co-captain Kelsey Rosenberg was 48th (20:12) and Sami Miller took 60th (20:28).
Despite the win, Beeby was hesitant to speak too highly of the performance. Patriot District foe Lake Braddock, one of the top programs in the state, was not at the meet. Beeby said he hopes the Wolverines take care of business later in the year.
"It's sort of a best of the rest situation," the coach said of the win. "We've had a fairly comfortable and fairly successful season. We're crossing our fingers and hoping we dot our I's and cross our T's at the end of the season."
The girls also took second at the Oatlands Plantation on Sept. 26. Bigler took eighth (19:15), Underwood was 10th (19:28) and Rosenberg placed 12th (19:30).
Beeby said he was pleased with the leadership of senior co-captains Bigler and Rosenberg.
"They lead by example," he said. "They're great as far as motivation for our younger kids. … We consider our captains an extension of our coaching staff."
The boys took eighth place at Octoberfest and ninth at Oatlands.
The Wolverines will compete in the Glory Days Invitational on Saturday.
<b>West Potomac Football Drops Fourth Straight</b>
The West Potomac football team lost to South County, 23-7, on Friday. The Wolverines have lost four straight games after defeating Mount Vernon by 39 points in its their season opener.
West Potomac grabbed a 7-0 lead over South County when quarterback Nik Dimitrijevic connected with Shawn Lee for a 24-yard touchdown pass in the opening quarter.
South County tied the game with a second-quarter touchdown before pulling away with 16 third-quarter points.
Dimitrijevic completed 13 of 28 passes for 110 yards and one touchdown for West Potomac. He was intercepted twice.
E.J. Johnson led the Wolverines with 58 rushing yards on 14 carries. Lee caught six passes for 63 yards a touchdown.
West Potomac, which fell to 0-2 in the Patriot District, travels to face Woodson on Friday.
<b>Mount Vernon Football Loses to Centreville</b>
The Mount Vernon football team fell to 0-5 with a 50-21 loss to Centreville on Friday.
The 21 points were a season-high for the Majors.
Mount Vernon looks to improve its 0-2 National District record Friday when it travels to play Hayfield.
<b>Fort Hunt Basketball Tryouts Approaching</b>
<bt>Tryouts for the county 10-year-old traveling basketball team will be held from 5:45-7:15 p.m. Oct. 14 at Fort Hunt Elementary School.
County basketball clinics and tryouts are posted at FHYAA.org. If the child is 10 as of Oct. 1, 2009, he is eligible to try out for the county travel team.
The child must attend at least one tryout to be considered to the county team.
Contact Catherine Gorham at gorhamca@aol.acom with questions.