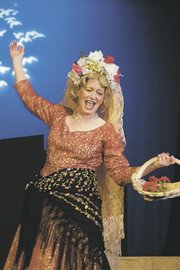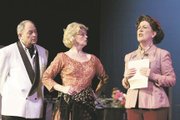 Dominion Stage is presenting a strange sort-of-documentary of a play under the title "Glorious!" at Theatre One in the Gunston Arts Center through this weekend. It portrays the concert career of a woman famous for not being able to hit a note, hold a tone or stay on beat. Just why, then, did her final concert at none other than Carnegie Hall in New York City sell out weeks in advance?
Sadly, this production doesn't really answer the fascinating question the play seems intended to present nor does it succeed in simply making a comic romp of it. Instead, it plods along covering the text but not bringing it to any sort of theatrical life.
The story of Florence Foster Jenkins is true. She really didn't sing anywhere close to acceptably — there are actual recordings of her and listening to them with a straight face is practically impossible. Still, for nearly 30 years before and during World War II, an increasing number of people wanted to attend her recitals which, toward the end, were limited to a single appearance each year at the Ritz-Carlton. Her final, sold-out concert at Carnegie Hall came in 1944, just a month before her death at age 76.
There have been a number of plays written about this inexplicable mystery. The most successful was a hit on Broadway. The play Dominion Stage is presenting, however, is not that one. Instead, "Glorious!" is a British play that was nominated for London's Laurence Olivier Award for Best New Comedy in 2006. While this production does have a few laughs, it is far from being either the comedy the author seems to have intended or an interesting examination of Jenkins's condition as a horrible singer who believes she's marvelous.
Barbara Porter has the unenviable task of singing so poorly, and she does a good job of it. She also sports the costumes (designed by Patsy DiBella Kreger and Eric S. Scerbo) that reflect Jenkins' equally peculiar garb, including a pair of wings and a halo for one scene. Porter ends that sequence beating herself over the head with one of the wings to simulate the concussion Jenkins believed allowed her to sing higher notes than she'd ever reached before.
Just as the real-life Jenkins had a constant companion/accompanist, the strangely named Cosmé McMoon, so too Porter is attended by Bradley Lyon who's ramrod straight back, tightly clamped together knees and slicked hair bespeak a new level of uptightness. More laid back is Jeff Murray as a friend from New York's theater crowd.
From director Patrick M. Doneghy's staging it is difficult to see just why this would have been honored with a nomination for an award as a comedy. It is more of an oddity than a comedy and, as an oddity, the fascination wears thin long before the evening is over.
Not all the vocalizing the audience hears in this evening is of the absurdly bad kind. In between scenes, true soprano soloist Harlie Sponaugle regales the house with selections from Mozart, Strauss and Puccini. It is as if the audience needed assurance that the human voice was, in fact, capable of producing an occasional beautiful sound. Sponaugle's competent rendition of classical arias demonstrate just how wide the gap is between the sound that came out of Jenkins' mouth and that of a trained concert vocalist, but serves to remind the audience that that this production sheds no light on why anyone wanted to listen to Jenkins. Her "fans" included Cole Porter and Irving Berlin — two gentlemen who knew what a singer should bring to the stage. What did they see (or hear) that escapes us today?
***
Brad Hathaway reviews theater in Virginia, Washington and Maryland as well as Broadway, and edits Potomac Stages, a Web site covering theater in the region (www.PotomacStages.com). He can be reached at Brad@PotomacStages.com.