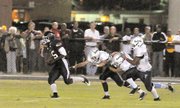 Yorktown defensive lineman Anibal Suazo voiced his displeasure after the Patriots allowed a touchdown to Edison's explosive offense. The Patriots were competing, but frustration was evident as a strong start wasn't enough to overcome the Eagles' athleticism.
Yorktown scored on the game's opening possession, but Edison responded with more than 300 rushing yards en route to a 42-10 victory over the Patriots in Friday's battle of perennial National District powers at EHS.
The loss was another bump in the road for Yorktown, which fell to 2-4. It was also a microcosm of the Patriots' recent struggles against the Eagles, who have won seven of their last eight meetings between the teams.
Yorktown has routinely been in the National District championship discussion since the district's inception in 1994, winning at least a share of seven titles. The Patriots owned the district in its infancy, wearing at least a piece of the championship crown in 1994, 1996, 1997 and 1999. Once the millennium turned, however, Edison started transforming into the district's dominant team.
Yorktown remained a successful program, winning at least a share of the district title in 2001, 2003 and 2006. Edison, however, won at least part of seven championships in nine seasons, including 2006-08. The Eagles won the Northern Region in 2006 and advanced to the group AAA, division 5 state championship game.
TWO REASONS Yorktown coach Bruce Hanson gave for Edison's resurgence were big-play talent and the return of head coach Vaughn Lewis, who went 10 seasons between coaching stints with the Eagles.
Lewis coached at Edison during the 1985 and 1986 seasons, leading the Eagles to the 1986 state championship. After leaving for personal reasons, he returned in 1997 and convinced a gifted group of athletes they could win.
"We had a lot of talent, but they had been losing for so long they didn't really know how to win," Lewis said. "We lost some close games we should have won. Now that we've been winning, we've won some games we" probably shouldn't have.
In 2006, Yorktown defeated Edison during the regular season. One month later, the Eagles won a rematch in the postseason. Edison shut out Yorktown in 2007 and 2008.
"They've just been better in every phase of the game the last two years," Hanson said, "but we're catching up."
Hanson said the Patriots, despite the lopsided score, were more competitive against the Eagles on Friday than they have been in recent years. Yorktown moved the ball and would have narrowed the gap, but twice failed to capitalize on scoring opportunities inside the Edison 10-yard line.
Yorktown showed its ability to compete during the game's opening drive — an 80-yard march punctuated by a 2-yard touchdown run from Erik Cardillo. The Patriots converted a trio of third downs during the drive, including 27-yard pass from quarterback Sam Nottingham to C.J. Bartholomew on third-and-10. A 15-yard facemask penalty on Edison helped convert a third-and-10 for Yorktown, and Cardillo gained four yards on third-and-four to give the Patriots a first-and-goal on the 3.
Yorktown converted early, but Edison quickly assumed the role of playmaker. While the Patriots were struggling to grind out multiple-play drives, the Eagles were striking with big plays.
EDISON'S UBER-ATHLETIC running back Angus Harper rushed for 186 yards and four touchdowns, including scoring runs of 33 and 21 yards, respectively. Quarterback Levi Barber scored on a 47-yard run and threw a 15-yard touchdown pass.
Meanwhile, Yorktown turned the ball over five times.
"We've got a lot of guys who can run and catch, but we don't have those guys that can go the whole way," Hanson said. "We had to keep completing passes, keep running the ball, where they throw one of those passes and [Chris Washington] catches, he can go all the way. … They don't have to be as consistent as we have to be."
Washington finished with two receptions for 44 yards, but Harper made the biggest impact. The senior said he runs the 40-yard dash in 4.4 seconds, received an offer from Old Dominion University and wants to improve his ACT score for Division I schools showing interest.
Harper is "college material. Division I material," Suazo said. "You've got to give it to him."
Cardillo, who also plays linebacker, said the Patriots were focused on stopping Harper.
"He was just too good at making people miss," Cardillo said.
Edison (5-1 overall, 3-0 district) led 28-10 at halftime. The Patriots drove to the Eagle 6-yard line in the final minute of the second quarter, but were turned away when Mark Krisak intercepted Nottingham.
Nottingham passed for 225 yards. Cardillo rushed for 28 yards and Khalil Doles totaled a team-high 88 yards on the ground. Bartholomew and Mike Veith each finished with 79 receiving yards.
Yorktown has experienced success in the past against its final four opponents of 2009. The Patriots travel to face Stuart on Friday, where they will look to improve their 1-2 district record.
"A win against Yorktown is always good," Lewis said. "They're one of the best-coached teams year after year. Bruce Hanson does a tremendous job coaching. His players, they're sound, they work hard, they're enthusiastic. Any time [we] can beat Yorktown, we feel good."