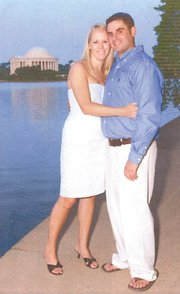 Connie and Bob Williams of Fairfax Station announce the engagement of their daughter Candace Page Williams to Michael Alan Sharkey, son of Leah and Alan Sharkey of Plainville, Mass. A wedding is planned for the fall of 2009.
Candace Williams attended Lake Braddock Secondary School and graduated from the University of Virginia with a bachelor's degrees in economics and religious studies. She is employed by the Department of Defense in Arlington.
Sharkey attended Bishop Feehan High School in Massachusetts and graduated from Virginia Tech with a bachelor's degree in business management. He is employed by the Department of Housing and Urban Development in Washington, D.C.
The couple plans to reside in Arlington following their wedding.