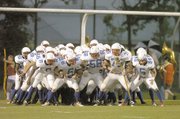 There are so many different ways Dominion High football quarterback Trey Baxter can hurt opposing teams. The junior signal caller, who has helped the Titans get off to a good 3-3 start this fall, is a threat as both a passer and a runner.
"He can roll out and pass and he's a threat to run as well," said Karl Buckwalter, Dominion's second year head coach.
Baxter, who tossed three touchdown passes in his team's Dulles District win at Freedom High on Oct. 2, has hardly been slowed down this fall except for injuries. He experienced back problems during the Titans' week two home loss to Ballou (Washington, D.C.). But he came back strong the following week with a big game at Wakefield in Dominion's first win of the season.
In that game in Arlington, a 28-24, come-from-behind Titans' triumph, Baxter completed 5-of-8 passes for 70 yards, and also rushed for 75 yards on nine carries. He tossed an eight-yard scoring pass to senior wide receiver Derrick Lewis, and also ran for a 36-yard touchdown in the victory over the Warriors, who led 24-7 early in the second half. That long scoring run, which came on a fourth quarter draw play, proved to be the winning touchdown. He played well against Wakefield despite the continuing struggles with his back.
More recently, Baxter injured his shoulder early on in Dominion's 34-9 district home loss to defending state AA champion Broad Run (7-0) on Oct. 9, a game in which the Titans trailed by just a 14-3 score at the half. Backup quarterback Steven Gricoski, a sophomore, took over for Baxter in that game.
Dominion was scheduled to play at district rival Loudoun County earlier this week on Monday (Oct. 19), a make-up game as a result of last Friday night's postponement due to rainy weather. Buckwalter said junior running back Deandre Reaves was likely to start at quarterback for the injured Baxter against the Raiders. The coach said there was a chance Baxter would be back in the line-up for this Friday's home game against non-region opponent South Lakes (5-2) of Reston.
Baxter has shown steady improvement throughout the season. Buckwalter is certainly hoping the quarterback can get back into the line-up real soon.
"We're starting to throw the ball better and [Baxter is] understanding the offense," said the coach.
Buckwalter recalled several occasions in his team's 17-12 district home win over Potomac Falls on Sept. 25 when Baxter successfully checked out of one play and into another at the line of scrimmage with good success.
"He really saved us," said Buckwalter.
<b>REAVES</b>, a standout running back in the area, has also been slowed down this fall by injuries. He suffered a high ankle sprain in Dominion's season-opening, 41-0 road loss at Loudoun Valley on Aug. 28 and re-injured the ankle the following week against Ballou. (Reaves had a 99-yard touchdown run called back because of a penalty in that 46-9 loss). He played sparingly in Dominion's week three win over Wakefield.
But Reaves has come back strong the past three weeks. He carried 24 times for 57 yards and a touchdown against Potomac Falls, rushed for 105 yards on 19 carries against Freedom and ran for 102 yards and a score on 32 attempts in the loss to Broad Run.
He did not rush for a touchdown in the Freedom game, but scored touchdowns in other ways – one on a 71-yard punt return and the other on a 65-yard interception return from his defensive back position.
Reaves is Dominion's leading rusher this season with about 400-plus yards.
"He's having a better year [than a year ago]," said Buckwalter. "He's impacting games in different areas and catching passes. He ran the hardest I ever saw him run against Broad Run. He's starting to really turn the corner. When you tackle him, you [feel] it. He's a physical football player."
Also having a good season carrying the football is sophomore Dashaun Wesley, who has rushed for over 300 yards. He ran for a score in the win over Freedom.
Buckwalter has his team in the running for a Region II, Div. 3 playoff spot. The Titans, following this week's games against Loudoun County and South Lakes, will meet visiting district rival Park View on Oct. 30, then wrap up the regular season with a district game at Briar Woods on Nov. 6. The Titans have a great opportunity to vastly improve on last year's one-win season. They also have a decent shot at making the playoffs.
"We're making some progress which is all you can ask," said Buckwalter. "We're taking some super steps forward. We're getting better each week."
Dominion is putting together a good season despite only having four senior starters in its line-up.
"I told the kids when I took over [two years ago] I'm not looking for a district champion, but I want us to be one of those teams [in the playoff hunt] at the end of the season. We talk about the playoffs. That's where we want to be. These next four games, if we win them all we're definitely in."
There have been numerous highlights through six games for Dominion, such as Jon Gannon's 72-yard kickoff return against Wakefield and defensive end Travis Estridge's outstanding second half of play in that same game against the Warriors. But what makes the season so rewarding thus far is that the Titans have won a handful of games. That was not the case a year ago.
"Winning cures a lot of ails," said Buckwalter, whose team started the season 0-2 before winning three of its next four. "They're learning they've got to do the little things to get the prize. We can compete with all these teams."