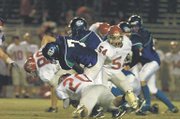 Special teams kicking specialists Drew Hunt and Karl Meyer have given the McLean High football team all head coach Jim Patrick could ask for this season. The two seniors have been huge factors in the Highlanders' 5-2 record.
Both Hunt, the team's kicker, and Meyer, the Highlanders' punter, were backups at their respective special teams' positions last year. This fall, they have thrived as starters.
Hunt, who also starts at a defensive end position for McLean, has made six-of-eight field goals this season. One of the misses was blocked. In McLean's 24-21 Liberty District home win over Marshall last Friday night, Hunt converted a momentum-building, 23-yard field goal in rainy, sloppy conditions to get the Highlanders within 14-9 just before halftime.
McLean had trailed the winless Statesmen 14-0 before finally getting onto the scoreboard when quarterback Will Hecht connected with Riley Beiro for a 21-yard touchdown pass play with about a minute remaining until the intermission. Moments later, the Highlanders recovered the ensuing kickoff and had another chance to score before the halftime. McLean worked its way down the field and ultimately got the field goal by Hunt to get within five points.
"It wasn't a real long field goal, but he's good in real clutch situations," said Patrick, of Hunt's hugely important kick that made the score 14-9. "Even though we were still down, I thought we had some momentum. He's done a great job for us. It's nice to know when we get close he's very accurate."
McLean scored a touchdown in both the third and fourth quarters, the latter score followed up by a Hunt extra point kick, to gain the hard-fought win over the Statesmen.
Two of Hunt's field goals this season have come at 40 yards or more. On kickoffs, Hunt has the ability to kick the ball well into the end zone.
"He's got a real good leg on him and has been a good kickoff guy," said Patrick. "He has gotten touchbacks when we allow him to kick the ball deep."
Meyer, meanwhile, has been averaging close to 40 yards per punt this season. He had one punt of 48 yards in McLean's 38-0 win at Jefferson two weeks ago. In McLean's 28-21 loss at South Lakes on Oct. 2, Meyer had three punts of at least 40 yards.
"He's been very consistent and can knock the ball down the field and out of bounds," said Patrick, of Meyer. "He's a very athletic kid. He works on [his punting] and does a lot of camps in the offseason. I think he'll be a recruited punter."
<b>MCLEAN HAD ITS HANDS</b> full against a Marshall team in search of its first win. The Statesmen, under first year head coach Bill Lapthorn, had long touchdown runs of 35 and 39 yards from senior running back Victor Vanegas. Marshall senior wide receiver Ryan Walter, meanwhile, caught a 13-yard scoring pass in the game.
McLean's Hecht completed six-of-13 for 115 yards and two scoring passes. Along with his touchdown pass to Beiro, Hecht also found senior tightend John Fremerman for a 10 yard touchdown pass. McLean sophomore running back David Fontenot ran for a two-yard touchdown in the win.
McLean's beautiful, Bermuda turf field drained well on the rainy night. McLean was able to hold onto the football, committing no turnovers. The McLean defense, meanwhile, had four fumble recoveries.
"It was raining and cold, the first weather test of the year," said Patrick. "I think our kids liked [the poor weather] – the old, playing in the rain type of thing."
The coach said Marshall's play impressed him.
"Marshall came prepared," said Patrick. "They're a physical team. They pounded us in the first half of the game. We pointed that out to our players at halftime."
McLean's offense did not get a first down until late in the first half. But the Highlanders got things going offensively in the second half.
"It was a challenge [to move the ball], but we didn't have any fumbles," said Patrick.
Marshall will be at home this Friday night against district opponent Jefferson, another team looking for its first win. The Statesmen, who have played better in recent weeks in losses to unbeaten Stone Bridge (28-0), Langley (21-7) and the Highlanders could well get into the win column against the Colonials.
McLean will travel to Fairfax (2-4), which is coming off a 28-20 loss to Stone Bridge. The Highlanders will be looking for their third straight win.