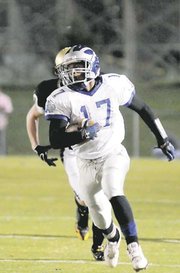 Friday's homecoming game against Robert E. Lee marked the return of West Potomac quarterback Colin Mathewson and receiver Will Rosenkranz from injury. But with the Wolverines' pass-happy spread offense grounded by steady rainfall and a muddy field, it was up to the defense and special teams to make plays.
After more than three-and-a-half quarters of punts, fumbles and miserable playing conditions, Daryl Copeland and Paul Marinelli assured the Wolverines had a happy homecoming.
A bad Lee punt snap led to a safety and Copeland and Marinelli each scored a touchdown with the offense on the sideline — all during the game's final six minutes — in a 14-7 Wolverines victory at WPHS.
Lee received the game's opening kickoff and marched 65 yards in 14 plays for a 7-0 lead. From that point it was more than 40 minutes of offensive futility as both teams struggled in the cold, soggy conditions. The teams exchanged punts and turnovers until the game started to slip away from Lee midway through the fourth quarter.
Facing fourth-and-17 on their own 10-yard line, the Lancers lined up to punt when a bad snap led to punter Clinton Jones tossing the ball out of the back of the end zone for a safety.
With West Potomac on the board, Copeland returned the ensuing kickoff 60 yards for a touchdown, giving the Wolverines an 8-7 lead with 4:19 remaining.
The junior got the ball on the right side of the field and headed to the left sideline before racing into the end zone.
"I knew I was going to score coming into the kick return," Copeland said. "As I was going toward the sideline I kind of slipped. But as … everybody else slipped, I just took it to the house."
THE RETURN gave West Potomac a surge of momentum.
"That's Copeland. He's electric," Wolverines head coach Eric Henderson said. "We needed that. You want your big players to make plays. … It was a great return."
After the teams traded punts, Lee faced second-and-20 on its own 13 when the linebacker Marinelli intercepted a pass and returned it 18 yards for a touchdown with 2:03 to play.
Marinelli credited the defensive line for pressuring Lee quarterback Greg Lopez, who threw the interception after rolling to his right.
"Our defensive line, they really pulled through," Marinelli said. "They played their hearts out this game. They didn't stop. They really stressed the quarterback. While he's rolling out he can't think, and I guess I was just in the right place at the right time."
West Potomac was held to 143 yards and no points on offense. It didn't matter. The Wolverines, who entered the contest on a five-game losing streak, found a way to beat a Patriot District opponent that was 5-1 at the time.
"You don't lose too many football games when the defense doesn't give up a point," Lee coach Rob Everett said. "I give West Potomac a lot of credit staying in the game. It was pretty impressive the way they stuck with it. We had our chances — even with just one touchdown — we had our chances to ice the game and finish it off and we didn't capitalize on those things."
THE LANCERS were without star running back Idreis Augustus, who suffered a groin injury the previous week against Lake Braddock. Despite Augustus' absence, Lee (5-2 overall, 2-2 district) picked up four first downs on the game's opening drive before Lopez threw to a wide open Mikquan Johnson off of play action for a 12-yard touchdown.
The West Potomac defense held Lee scoreless the rest of the game while forcing three turnovers. The Lancers finished with 183 total yards, including 99 rushing yards on 25 carries by running back Jazmier Williams.
Mathewson didn't get many opportunities in his first action since spraining the medial collateral ligament in his left knee Sept. 17 against Chantilly. The senior completed 5 of 12 passes for 51 yards and rushed four times for five yards. Mathewson spent some plays on the sideline as running backs Darel Layne and Brandon Johnson carried the ball off of direct snaps.
Rosenkranz, who suffered a knee injury during a preseason scrimmage, caught two passes for 18 yards.
Layne rushed 17 times for 67 yards for the Wolverines.
West Potomac (2-5, 1-3) travels to face T.C. Williams on Saturday. Parker-Gray Stadium has a turf field, but rain is once again in the forecast.
But even if their offense is once again limited by conditions, the Wolverines showed they can still win.
"I think [the victory over Lee] means kind of validation of what we're doing," Henderson said. "We just keep working hard and keep grinding at it and keep pushing the kids. We haven't given up on them, they didn't give up on us and I'm just really proud of the kids. They really responded."