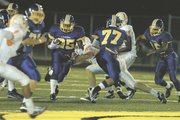 For Robert E. Lee High School running back Idreis Augustus, a pulled groin and a three-game losing streak has the senior eager to return to the field.
After helping lead the Lancers to a 5-0 start this season, Augustus was injured during the team's 28-21 loss to Lake Braddock Secondary School on Oct. 9. After that loss, the Lancers dropped their next two games as Augustus watched from the sidelines, frustrated with his injury and inability to help his team.
"I feel like I'm separated from my team because I can't do anything to help them right now," Augustus said. "It hurts [to not be on the field]. I don't like it at all. I'm just trying to get healthy so I can play with them."
A rushing attack spearheaded by Augustus, running back Jazmier Williams and quarterback Greg Lopez drove the offense, but since Augustus' injury, the Lancers have only mustered a touchdown in each of their past two games.
Lee lost to West Potomac 8-7 on Oct. 16 and to South County 10-7 on Oct. 23, two losses that Augustus said were not telling of the team's talent.
"We haven't lost our fight," Augustus said. "We just need to get focused again."
The two losses might present some upside for the Lancers in the form of lessons learned before the playoffs start in early November.
"I'd rather us lose now than in the playoffs," Augustus said. "I don't feel that we played [our best] in the past two games and we didn't deserve to win. Our mind-sets have changed since those losses."
One change that the Lancers have made is making their practice sessions tougher, said senior linebacker Danny Taylor.
"The reason we went 5-0 was because we were competitive in practice," Taylor said. "We haven't been competitive for the past few weeks. This week, we're putting our first defense against the first offense [instead of putting] the scout teams against the first teams."
The extra competitive edge in practice is also bringing hope that the team will find its winning ways despite injuries and illnesses.
"If we win these last two, we can go on a winning streak," Taylor said. "We need [Augustus] to heal and [Williams] is sick so we need him to get better, too."
But Lee head coach Robert Everett doesn't want to hurt his playoff chances by rushing players back from injury.
"Our big picture is the playoffs, and we're in a good position even with the adversity we've faced," Everett said.
"[Augustus] might play on Friday but we'll see."
After watching a video session breaking down the defense's mistakes in their previous game with South County, Everett said it was up to his team to correct their errors on the field.
"We need to see if we can learn from our mistakes," Everett said.
Despite the losing skid, Everett is confident that the team's offense is still as dangerous as it was when Augustus was charging down the field.
"Even though we've come up short, we've put up a quality product on the field," he said. "We've been in every game we've played. Now that the Patriot District championship is off the table, our focus is the playoffs. Our hope is that we can become the best conditioned and healthiest team at the end of the season."