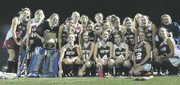 Sara Duncan collapsed to her knees, tears streaming from her eyes, and released 60 minutes worth of pressure.
Mount Vernon's senior goalkeeper had stymied a seemingly constant attack from Washington-Lee during the National District Field Hockey Tournament championship on Oct. 22. Mount Vernon jumped out to an early lead on a first-half goal by sophomore Allie Schray, but the Generals spent the remainder of the contest testing the stability of the Majors' one-goal advantage.
Numerous corners provided Washington-Lee with ample scoring opportunities, but time after time the Generals came up empty — thanks in part to Duncan. Washington-Lee's final chance came on an untimed corner at the end of the second half. When the ball was cleared and the official's whistle blew for the final time, Duncan finally let her guard down.
Schray's goal held up as Mount Vernon defeated Washington-Lee 1-0 at WLHS, avenging last year's district title game loss to the Generals. Duncan was part of a bend-but-don't-break defensive performance by Mount Vernon.
"I'm so happy. I've waited three years for this," an emotional Duncan said. "[It was] intense [on the field]. I'm the last line of defense, so I always feel like I'm the one who lets the team down when we lose."
The last line of defense held firm for the Majors.
"[Duncan] played awesome tonight," Mount Vernon coach Jess Hebel said. "[The Generals] had a lot of shots on goal — they played a hell of a game. … [Duncan] was on top of everything. Even when it was a foul, she didn't hold back at all. She was on top of everything, she was on her angles … she knew where the ball was coming from."
Duncan was a second-team all-district selection this season.
Schray's goal was her team-leading 11th of the year.
"I think that when they scored in the first two minutes, they came out with a lot of intensity and I think that we didn't come out with as much intensity, and then we just couldn't capitalize on our opportunities," said Washington-Lee defender Kelsey Clark, the district Player of the Year. "We had so many corners in a row and we couldn't score on a single one."
The main reason Hebel gave for Mount Vernon falling short in last year's title game was a lack of communication. This time, Hebel said the Majors played as a team.
"[Washington-Lee] just had corner, after corner, after corner and I said to [the Majors] when they came off, 'There's one thing for sure: you guys do not want to let a goal go in tonight.' … I know that they pulled together to do that because you can't just individually have that many corners against you and still come out with your heads up and fight."