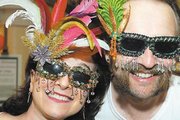 Art Outlet presents Ofrenda 2009, an art exhibition of local artists' shrines, altars, and other art in the Mexican Dia de los Muertos (Day of the Dead) tradition, along with a masked ball and parade. The third annual Ofrenda exhibition is presented in partnership with the Torpedo Factory Art Center on the waterfront in Old Town Alexandria.
A free Masked Ball will be held on Saturday, Oct. 31 from 3 p.m. to midnight. Revelers are invited to come to the Ofrenda reception and parade dressed in the style of Day of the Dead, or decked out in Halloween finery.
An artist-led sugar skull activity and Mariachi performance by Mariachi Estrellas will kick off the celebration from 3 to 4 p.m. Live music including rock, swing, and blues will be interspersed with belly dancing and silk trapeze performances throughout the event. Guests can participate in the exhibition by bringing personal remembrances — ofrendas — to contribute to the artist-made public altar honoring those who have left us.
The Ofrenda Parade will be held from 7-7:45 p.m., Oct. 31, and is open to anyone. It will be led by drummers, fire dancers, artists in costumes, and Day of the Dead puppets. It will begin at the historic Market Square near City Hall at 301 King Street at 7 p.m. and end at the Torpedo Factory Art Center at 7:45 p.m. with a drum circle.
Members of the public wishing to join the parade can come in their costumes, bring puppets, shrines, and noise makers. For details, go to ofrendaparade@artoutlet.org for more information.
An art exhibition will be held from Oct. 31 to Nov. 2. Art Outlet has curated 1152 square feet of wall exhibition space (18 panels, courtesy of Artomatic) and space for sculpture/media on the first floor of the Torpedo Factory Art Center. A public altar outside the Torpedo Factory will include candles and incense. Artist-made Dia de los Muertos altars and ofrendas will draw the beloved dead to visit their loved ones, feast on their favorite food and drink and listen to their favorite music — remembering the dead and celebrating life. Artwork in a variety of media will be presented.
Exhibiting artists will include: Michael Auger, Kathlyn Avila-Reyes, Jennifer Beinhacker, Jennifer Bishop, Ismael Carrillo, Kate Clark, Andrea Collins, Rosemary Feit Covey, Anthony Delfin, Jackie Ehle, Cavan Fleming, Ric Garcia, Jeannette Herrera, Kevin Irvin, Jessica Jastrzebski, Rebecca Marion Kallem, Lori Katz, Shauna Lee Lange, Emily Green Liddle, Carolina Mayorga, Peggy Meckling, Heather Miller, Mara Odette, Claudia & Sergio Olivos, Chris Peloso, Kevin Chopper Peshkepia, Caren Quinn, Lisa Rosenstein, Skeeter Scheid, Heather Schmaedeke, Hillary Sloate, Kenya Rene Smith, Constance Springer Zabowski, Neil Leon Stavely, Erika Stone, Henrik Sundqvist, Roy Utley, and Alexandra Zealand.
For more information, Art Outlet: www.artoutlet.org, 571-214-9994; Torpedo Factory Art Center: www.torpedofactory.org; 703-838-4565.