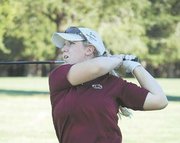 Amanda Steinhagen of Oakton High blitzed the field at the 2009 Virginia Girls' Open State Golf Tournament. She won the two-day event, Oct. 26-27, by eleven strokes. She also won the event in 2007 and placed fourth last year.
Steinhagen, a senior from Oak Hill, shot a tidy 2-under 70-68 – 138 to lead the field of 93 players at Kempsville Greens Golf Course in Virginia Beach. There is no team play at the Girls' Open. Players either qualify through zone tournaments or gain a spot if they played in one of the four regional team tournaments.
"I started off great on the front nine of the first round," said Steinhagen afterward. "I got on a birdie run and converted three good approach shots into birdies."
She posted four straight 3s, including a par on the ninth.
Starting the second round with a 4-shot lead over Lauren Coughlin of Hickory High School in Chesapeake, Steinhagen aimed for consistency.
"I tried to play it safe on the front nine and make pars," she said. "But the birdies just happened anyway, and I was 2-under at the turn."
She ended up with five birdies for the day.
Coughlin and Paige Reese of Park View High School in South Hill tied for second, with Coughlin winning a playoff for the silver medal.
Steinhagen finished 12th in individual play in last week's state team tournament, an event dominated by the boys.
In addition to her great high school golf this year, Steinhagen qualified for an LPGA Duramed Futures Tour event last summer in Richmond. She earned her way into the field by winning a 36-six-hole amateur qualifier at Richmond Country Club.
A two-time honorable mention All-Met, Steinhagen has orally committed to attend Longwood University (Farmville, Va.) next fall and play at the next level.