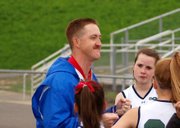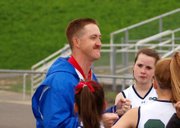 Patrick Mack has a special bond with the South County Secondary School girl's junior varsity lacrosse team. In his first year as head coach, Mack helped lead the team to an undefeated season. Now his players want to repay him for their outstanding season by finding a bone marrow donor to aid in his fight against leukemia.
"He is such a great coach and if you ever had a problem you could talk to him," sophomore Tara O'Conner said. "He taught me so much, I figured this is the least I can do to repay him."
On Sept. 1, team members and parents conducted a bone marrow drive at South County Secondary School to help their ailing coach.
At the end of May, Mack, 35, found out about the illness that would change his life.
"Patrick was diagnosed with myelodysplastic syndrome," said his wife Lisa Mack. "He has a chromosome abnormality that is an aggressive form of myelodysplastic syndrome that progresses toward acute myelogenous leukemia."
When the players and parents learned about the illness, they sought ways to support their coach.
"We're trying to help him find a bone marrow donor," said Melinda Engelbrektsson, a parent and bone marrow drive organizer. "It seemed like a perfect opportunity to help someone who has helped our girls so much."
The drive took place in a small classroom in South County Secondary School. Donors were asked to fill out paper work and swab their mouth to collect cheek cells that would be used to identify if a match could be made for a transplant.
Many turned up to the event unsure of what they would need to do in order to donate.
"When they said bone marrow, I was worried that it might hurt," said Wendell Johnson, South County's head men's varsity basketball coach. "It was just a swab and it was really quick. Nothing to worry about at all."
The potential donors were a mix of students, teachers, administrators and parents. Some participated without even knowing Patrick Mack.
"Honestly, I've never met him," Johnson said. "I did it because our department chair mentioned it, and I thought it would be a good thing to do for someone."
Others came because they thought it was the right thing to do.
"I think anything you can do to help someone overcome an illness is worth doing," said Barbara Walker, a South County history teacher. "If what I can do will make a difference for him and others, then I want to do it."
While 181 people participated in the event, the chance of finding a bone marrow match is akin to finding a needle in a haystack.
"There are 13 million people in the registry and not one of them matches [Mack]," said Nadya Dutchin, a member of the National Marrow Donor Program. "He has about a 20 to 30 percent chance of finding a preliminary match and a 1 to 3 percent chance of a match going all the way to donation. We just have to continue [adding people to the registry] so we can find a match."
The bone marrow drive is just one step forward in helping Patrick Mack.
Since his diagnosis, Patrick Mack has been going through various medical procedures to combat his illness.
"He went in the hospital on June 21 to start chemotherapy," Lisa Mack said. "The idea is to put him into remission so he can have a successful bone marrow transplant when we find a donor."
Patrick Mack had hoped to attend the drive to see his players, but complications from the illness forced him to be admitted to Johns Hopkins Hospital in Baltimore on the day of the drive.
"He had been home for just over two weeks, but he had some complications with his liver," Lisa Mack said. "He was readmitted to try and help his condition."
His wife was able to make an appearance and was happy to see how much the South County community cared about her husband.
"It was just an incredible [to see the support]," she said. "To think that his life or someone else's life might be saved because of [the bone marrow drive] is an honor."