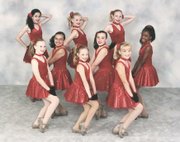 Nine tap dancers that attend different area schools share their love of dance at Barbara Sheppard's Academy of Dance. Winning gold medals in 2007 and 2008 at Dance Masters Mid Atlantic Chapter 17, the girls once again qualified for the National Convention Performing Arts Competition.
This year marked the 125th National Convention at the Gaylord National Convention and Resort Center at National Harbor. The studio decided to have the girls go to National Convention to compete for the first time on a National Level. They won Hi-Silver in the 11-12-year-old tap category.
The youngest member of the group 9 year old Reagan Raczynski also captured the Mid-Atlantic Chapter 17 "Miss Petite" title and went on to win the Interview category and place in the top ten . Reagan's mother and grandmother are co-directors of the Barbara Sheppard's Academy of Dance.