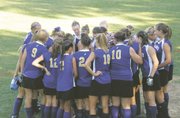 In its 5-2 victory against Robinson Secondary School on Sept. 3, the Lake Braddock Secondary School varsity field hockey team looked strong, cool and seasoned.
To casual observers, the Bruins team might appear to be experienced varsity players, moving the ball with ease in the scoring circle. In fact, the senior-less team is still dealing with the growing pains of developing a winning program.
"This is my 29th year coaching at Lake Braddock and I've never had a team without a single senior," said Head Coach Diane Miller. "It was important to get this win. We have a very young team and lost nine starters from last year. This was a big confidence boost for [the team]."
The roster of nine juniors, eight sophomores and four freshman has earned a 1-2 record to start the season, recording losses against McLean High School and Centreville High School. In its match with Robinson, however, the Bruins could do no wrong.
The Bruins dominated possession from the opening whistle and quickly created scoring opportunities.
In the first minute of play, freshman forward Taylor Livick scored to set the pace for the Bruins.
"I just kind of deflected the goal in," Livick said. "It feels great to score [as a freshman]. I was really surprised to be in the game. Last game I wasn't [playing] as much."
Livick added another goal to her total later in the first half.
WITH THE Bruins in control and dominating possession, Lake Braddock's 2008 leading goal scorer, junior Brittany Hopkins, added another goal to the Bruins' lead and her bid to recapture the scoring title.
It was the first of two goals she would score in Lake Braddock's rout of Robinson.
"I had 19 goals last year," Hopkins said. I scored two today and one on Monday [against Centreville]. The season has been tough so far. We graduated a lot of girls and it's been detrimental to our team, but I tried to play around it and work it out. I think we should we have a solid team to compete with top teams."
With such a young team, juniors such as Hopkins are being called upon to be leaders for the younger players.
"This is my third year starting and I've been around the program," she said. "Our coach is really pushing us to step up and carry the program. I have it in my heart that if I don't do my best to score a goal, then we may not score."
Hopkins' drive to score is also one of the reasons that she's a team captain.
"[The captains and I] talked about the upcoming game and how we don't like to lose," she said. "Lake Braddock isn't a losing program. We know it's a rebuilding season, but we know it's coming together."
Though the victory against Robinson might have shown the Bruins what the team is capable of, Hopkins said that district matches aren't going to be easy this season.
"With Woodson in the district, it's going to be a lot harder to win the district," she said.
After the game, many of the Bruins' players were ecstatic about the win, but Miller reminded them that just because they scored five goals, it doesn't mean they were perfect.
"There are things we need to improve on," Miller said. "It's just a learning process. I was pleased that we scored five goals and that different people [scored], but we still have to correct some flaws."