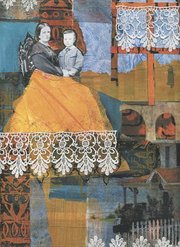 <cal1>Now through Oct. 4
<cal2>Gallery West Presents: Petals and Leaves, Blossoms and Greens
New Paintings by Kathy Guzman
Opening Reception: Saturday, Sept. 12 from 5 – 7 p.m.
2nd Thursday Reception: Sept. 10, 6 – 9 p.m.
The September solo show at Gallery West, 1213 King Street, Alexandria, is called "Petals and Leaves, Blossoms and Greens." The exhibition features an exploration of lines, shapes and colors of flowers and greens in different settings and environments by Kathy Guzman. It runs from Sept. 9 – Oct. 4, 2009. A reception open to the public will be held Saturday, Sept. 12 from 5 – 7 p.m. The gallery will also be open on Thursday, Sept. 10 until 9 p.m.
Member work will also be on display at the gallery. Located in the heart of Old Town Alexandria, Gallery West is celebrating its 30th anniversary in 2009. The gallery is opened 11 – 6 p.m. Wednesday through Sunday. Images of member work are on view at the gallery's website: www.gallery-west.com.
<cal1>Sept. 10-Oct. 18
<cal2>"From There 2 Here." At the Target Gallery. Reception on Sept. 10 from 6-8 p.m., gallery talk with Marian Van Landingham, founder of the Torpedo Factory Art Center at 7 p.m. And at the Athenaeum, Sept. 10- Oct. 4; reception on Friday, Sept. 11 from 6-8 p.m. Part of the Torpedo Factory's 35th anniversary celebration. Exhibition features artwork from three regional art centers that were inspired by the Torpedo Factory's groundbreaking concept. The participating art centers are Liberty Town Arts Workshop (Fredericksburg), GoggleWorks Center for the Arts (Reading, PA) and the Prizery (South Boston, VA).
<cal1>Now through Sept. 27
<cal2>Preview the exhibit, Revenge of the Sequel, Del Ray Artistans' September Art Show. At the Del Ray Artisans, 2704 Mount Vernon Ave., Alexandria. Exhibit shows artists depicting their uninhibited and unabashed versions of a sequel. It runs through Sunday, Sept. 27. A reception to meet the artists will be on Friday, Sept. 11 from 7-9:30 p.m. Call 703-838-4827 or visit www.TheDelRayArtisans.org. The Del Ray Artisans gallery is located in the Nicholas A. Colasanto Center, 2407 Mount Vernon Avenue, Alexandria; call 703-838-4827.
<cal1>Now through Sept. 30
<cal2>"Creation Sings!!" a journey through the beauty of nature as photographed by Allen Pearson will be at The Gallery at Convergence, now through Wednesday, Sept. 30. The artist reception will be on Sunday, Sept. 13, 3-5 p.m. Pianist Mary Dart will join Photographer Allen Pearson to present the musical "Journey through Creation's Song". The Gallery at Convergence is located at 1801 N. Quaker Lane, Alexandria; call 703-998-6260. Gallery hours: Monday through Thursday, 9 a.m. to 3 p.m., by appointment at all other times. Visit www.allenpearsonsphotos.com or www.convergenceccf.net.
<cal1>Saturday/Sept. 12
<cal2>The Gallery at Convergence hosts Art in Autumn. This one-day event will be held on Saturday, Sept. 12 from 1-6 p.m. at the Gallery at Convergence located at 1801 N Quaker Lane in Alexandria.
Art in Autumn will feature contemporary artists who work green using non-toxic, renewable and recyclable materials. Hundreds of original works of art for sale including: paintings, jewelry, fiber art, photography and much more.
Enjoy complimentary tempting treats while perusing one-of-a-kind art in this climate-controlled gallery.
A portion of all art sales will benefit Convergence programs including Artists Way, Convergence Shared Artists Studios, and Club Tiger.
Gallery hours: Monday - Thursday 9 a.m. to 3:30 p.m. and by appointment
At the Gallery at Convergence, 1801 N Quaker Lane, Alexandria. Call 703-998-6260. Go to www.convergenceccf.net
<cal1>Tuesday/Sept. 15
<cal1>"Joy of Movement" at the Potomac Fiber Arts Gallery. The artists celebrate the joy of movement by kinetic and representational interpretations in fiber. Jewelry, sculpture, clothing and wall pieces are some of the items that will be exhibited. At Studio 18 in the Torpedo Factory Art Center, 105 North Union Street in Old Town Alexandria. Hours are 10 a.m. to 6 p.m., except on Thursdays when it is open from 11 a.m. to 9 p.m.
<cal1>Sept. 10 - Oct. 5
<cal2>In the Art League Gallery: Brenda Barthell's Solo Show at The Art League. "The Special Relationship" describes the historic, diplomatic, and political connection between the UK and U.S. These paintings, however, represent a personal bond and one that may be familiar to others who have divided roots.
Opening Reception: Thursday, Sept. 10, 6:30 – 8 p.m.
Gallery Hours: Daily, 10 a.m.-6 p.m.; Sundays, 12 noon-6 p.m. Exhibitions and events are free and open to the public.
<cal1>Sept. 21-Oct. 25
<cal2>Repetition in Clay: Disciplined Creativity. By the Kiln Club at the Torpedo Factory Art Center. At the Torpedo Factor Art Center's Scope Gallery. The October show is juried by functional potter and sculptor Amanda Delgado. Hours are Monday through Sunday from 10 a.m. to 6 p.m., with Thursdays open until 9 p.m. The gallery is located at 101 North Union Street, Studio 19, Alexandria. Call 703-548-6288 or visit www.torpedofactory.org/galleries/scope.
Open Life Drawing at Del Ray Artisans — Open life drawing continues on selected Wednesdays from 2-5 p.m. this summer at the Del Ray Artisans gallery. The fee for each session is $8 for DRA members and $10 for non-members. Contact Katherine Rand at 703-836-1468 or katherine@katherinerand.com. Dates, times and directions can be found at http://www.thedelrayartisans.org/index.htm.
<cal1>Now through Sept. 20
<cal2>"Living Legends of Alexandria 2008-09" will be featured in the Coldsmith Gallery at The Lyceum, Alexandria's History Museum, 201 S. Washington St. It features photographs of all 27 of the nominees with information about their contributions. It runs through Sunday, Sept. 20. The 2008-09 Living Legends are: Engin Artemel, Donna and Mel Bergheim, Bernard M. Fagelson, Thomas "TJ" Fannon, Lillie Finklea and Louise Massoud, Carlton Funn, Arlene Hewitt, Eula and Melvin Miller, George Pera, Elbert Ransom, Jr., Jane Ring, and Charlene Schiff. Call 703-838-4994 or visit www.alexandriahistory.org.
<cal1>Other Items
<lst>Art at the Center, 25 S. Quaker Lane, Room 16, classes are forming now for adults and children from 18 months and up. For details go to www.artatthecenter.org or call 703-581-5598.