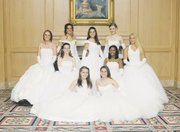 The Old Dominion Cotillion ("ODC") held its 18th Annual Debutante Ball at Westfields Marriott in Chantilly on July 18. Family and friends who gathered for dinner and dancing celebrated the debut of nine local young women. The Debutantes dressed in white Cinderella-like ball gowns were formally presented by their fathers and then escorted by cadets from the Virginia Military Institute.
The ODC proudly announces the debut of its 2009 debutantes: Miss Robyn Ann Diseati, daughter of Mr. and Mrs. Blair Diseati of Clifton, who is a rising senior at Robinson Secondary School; Miss Genevieve Celeste McManus, daughter of Mr. and Mrs. Michael Mulligan of Fairfax, who will be a senior at Chantilly High School; Miss Alexa Victoria Nieves, daughter of Mr. and Mrs. L. Dean Tarbet of Annandale, a senior at Bishop O'Connell High School; Miss Kari-Amanda Ruth Ottosen, daughter of Mr. and Mrs. Karl Ottosen of Fairfax Station, who will be a senior at Wellington High School, Wellington, Fla.; Miss Cheniece Nicole Richardson, daughter of Mr. and Mrs. Darryl Green of Burke, and Mr. and Mrs. Ronald Richardson of Lorton, a graduate of Robinson Secondary School; Miss Melissa Kristine Saale, daughter of Mr. Stephen Salle and Ms. Toi Hatcher-Salle of Waterloo, IL, a rising senior at The Madeira School; Miss Kara Jane Watrud, daughter of Mr. and Mrs. Donald Watrud of Fairfax, a senior at Chantilly High School; Miss Brittany Alison Yantis, daughter of Mr. and Mrs. Martin Yantis of Clifton, who will be a senior at Flint Hill School; and Miss Brooke Marie Zeltner, daughter of Mr. and Mrs. John Zeltner of Middleburg, a senior at Loudoun Valley High School.
The program also included the announcement of five Pages (seventh-and eighth-graders), 11 Future Debutantes (ninth- and tenth-graders), and nine Post Debutantes (seniors and college freshmen). Returning alumnae of the Cotillion were also recognized.
The Old Dominion Cotillion is a women's organization that was established in 1991. It is an organization in which young women are educated in the social graces through enrichment, social and philanthropic activities to grow in confidence and poise. The ODC's social season begins with the annual fall invitational tea. The ODC's social development activities have varied over the years — from a poise and social graces seminar to a wardrobe seminar at a popular area clothing store. Each year, the young women also participate in dance lessons and seminars in tea pouring, stationery and dinner etiquette. In addition to enrichment activities, the young women and their families enjoy numerous social events throughout the social season, such as a Halloween Party, a fashion show, the annual Holiday Gala, an ice skating party, a father-daughter Valentine's brunch and a Kentucky Derby party. Each year, "Ball Week" is filled with activities for the young women and their families as they anticipate the annual Debutante Ball — including family day, a Debutante luncheon, the "Ring Dance" (where the Debutantes are presented with the ODC's signature ring) and the Rehearsal Party. Though the annual Debutante Ball signifies the end of the social season, it also marks the beginning of a new journey for the young women who are making their debuts.
One of the objectives of the ODC is to teach its young women social responsibility and encourage them to engage in the community. In the spring of 2008, the ODC began a philanthropic partnership with the Katherine K. Hanley Family Shelter in Fairfax. The shelter is run by Shelter House Inc., which is a community-based, non-profit organization serving homeless families in Fairfax County. Over the past year, ODC members contributed over 200 hours of service to the shelter. For its efforts, the ODC was recently awarded a 2009 Volunteer Service Award in the category of "Youth Volunteer Group" by Volunteer Fairfax.
The ODC's new social season will commence with the annual Invitational Tea on Sept. 27, 2009. For more information about the ODC, contact Mrs. C. Peter Gallagher, Director, at 703-476-9576 or visit the Web site at www.olddominioncotillion.org.