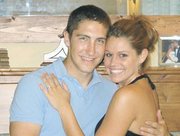 Brig. Gen. (ret) and Mrs. James M. Shamess of Fairfax Station are pleased to announce the engagement of their son Jonathan David Shamess to Lindsey Marie Grace, daughter of Kelly and Sharyn Grace of Green Mountain Falls, Colo.
Lindsey Grace is a graduate from Manitou Springs High School in Colorado. She is now attending Troy University majoring in dental hygiene. Jon Shamess graduated from Woodson High School and the U.S. Air Force Academy. He is now a first lieutenant in the USAF stationed at Hurlburt Air Force Base in Florida.
The couple will marry on Sept. 25, 2009 in Manitou Springs, Colo.
More like this story