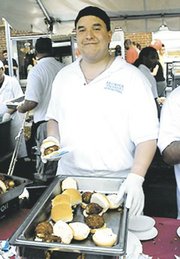 Taste of Bethesda is celebrating its 20th anniversary on Saturday, Oct. 3 from 11 a.m.-4 p.m. Produced by the Bethesda Urban Partnership, Taste of Bethesda will feature more than 50 of downtown Bethesda's restaurants, four stages of live entertainment and an activity area for children.
Highlighted cuisine will include Indian, Thai, Italian, Japanese, Spanish, Mexican and more as well as seafood, burgers, fries, steak and pizza that will be complemented by cookies, cupcakes, ice cream and coffee drinks.
Taste of Bethesda is located on Fairmont, Norfolk, St. Elmo, Cordell and Del Ray Avenues in the heart of Bethesda's Woodmont Triangle. Four stages showcase musical and cultural performances, and a children's area featuring activities, balloons and giveaways that will provide additional entertainment for young visitors. More than 40,000 attendees enjoy Taste of Bethesda each year.
Admission to Taste of Bethesda is free. Tickets will be sold on-site to "taste" different foods; a serving costs one to four tickets and tickets are $5 for four tickets. The event is located three blocks from the Bethesda Metro station. Free parking is also available in downtown Bethesda's public garages. The free Bethesda Circulator will transport visitors to and from the Bethesda Metro station and public garages.
Call 301-215-6660 or visit www.bethesda.org/specialevents/taste/taste.htm