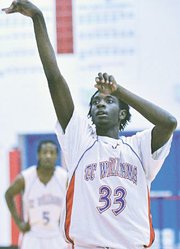 The T.C. Williams boys basketball program's five-year path of perfection through the Patriot District was soiled not by the on-court performance of an opponent, but by the review of a transcript.
Titan seniors Billy Rowland and Darrius Porter were deemed ineligible after a review of their transcripts revealed they were both fifth-year students. Virginia High School League rules allow an athlete four years of eligibility. T.C. Williams, which started the season 12-3, will forfeit its victories and continue as an 0-15 team without Rowland and Porter.
Head coach Julian King first announced the findings on Monday and Director of Student Activities Bob McKeag confirmed on Tuesday.
McKeag learned of a potential problem from Lake Braddock DSA Mark Martino, who contacted McKeag after receiving a tip that Rowland, the team's leading scorer at 17 points per game, might be ineligible, McKeag said. The T.C. Williams DSA reviewed Rowland's transcript and found he was a fifth-year student. A subsequent review of the other Titans' transcripts revealed Porter was also a fifth-year student.
Rowland and Porter are each transfer students. Rowland attended Surrattsville High School in Maryland for two years before transferring to Bishop Ireton, a private school in Alexandria, where he repeated the 10th grade, according to King and McKeag. Rowland transferred to T.C. Williams in 2008 as a fourth-year junior. Porter transferred to T.C. Williams from North Carolina in 2007. Porter repeated the ninth grade in North Carolina, McKeag said.
"Those kids slipped through the cracks," King said Monday. "The ball was just dropped. … I'm [angry] that these kids slid through the cracks and no one caught this. It's ridiculous. I had no idea. There's no way I would jeopardize these kids' season for these [ineligible] kids to play."
King is in his second season as T.C. Williams head coach. He was an assistant under Ivan Thomas for the 2007-08 season, when the Titans won the AAA state championship.
McKeag took blame for the oversights, even though he was hired after Rowland and Porter had transferred to T.C. Williams.
"I'm just going to take full responsibility," said McKeag, who was hired as DSA prior to the 2008-09 school year. "It's the athletic office's responsibility to coordinate the eligibility or non-eligibility of an athlete. … I'd like to assure the folks in the city of Alexandria that we're going to close the gaps existing in our method of doing business [and assure] a situation like this doesn't occur again."
Superintendent Morton Sherman in an e-mail to staff wrote T.C. Williams will take three steps to avoid such problems in the future. T.C. Williams principal William Clendaniel is directing an investigation into personnel and process involved in the handling of student transcripts when Porter transferred in 2007 and Rowland transferred in 2008.
The athletic department is checking to confirm other Titan athletes comply with eligibility rules and "School officials will review practices and procedures and make changes as appropriate. There will be a focus on improved communication between the counseling and athletic offices."
Sherman also wrote "I am very disappointed for our students and for the T.C. community. Whether this was caused by a lack of checks and balances at the school level or by human error, I am deeply disturbed that T.C.'s longstanding practices have resulted in hurting our students."
Senior guard Ryan Yates, who combined with Rowland to form the Titans' 1-2 scoring punch, said he felt bad Rowland and Porter won't get to play for the Titans and he believes they did not know they were doing anything wrong.
"I was more hurt that my teammates, my brothers, couldn't finish [the season]," Yates said. "Some people may not know but basketball is a way of life to us. For them to take it away from them, I know it hurts because it hurt me, too. The [12-3] record was all good, the [80-game Patriot District winning] streak is all nice, but basketball is much more than that. It was very hurtful.
"… Even if they're not on the team I'll be playing for both of them because they'll still be part of us. Whatever they say, whatever the fans say, the media, anybody, we know they're still part of the team and we're still together. … We understand the situation. We know Billy, we know Darrius and they're the type [of guys] that would never lie to you and never jeopardize the team for their own fortune. We knew they didn't do this on purpose. They had no idea. … We've got their back 100 percent."
While T.C. Williams' record takes a hit, all hope is not lost for the Titans. King said the team's style of play might change and everyone on the roster will need to step up, but hopefully the Titans will be ready for the Patriot District Tournament.
"We'll use these five games to iron out the kinks," King said Tuesday. "There's new players thrust in different positions so these are five games where we can see where they are, where we are as a team … and how we can make the best of the situation and hopefully we've righted the ship by the tournament."