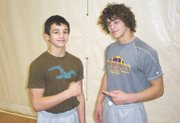 The problem with high school sports is that superstar players eventually graduate. Finding a replacement can take a generation of students. Some coaches never discover that elusive next big thing.
At Lake Braddock, wrestling head coach Scott Matheny and football head coach Jim Poythress can attempt to replace senior star Ross Renzi with his younger brother Rory.
Speeding up the process for both coaches is a commitment by Ross, a three-time Patriot District wrestling champion and starting defensive back, to take Rory, also a defensive back and wrestler, under his wing.
"I think about how I was when I was younger," Ross Renzi said. "I just want to see him develop and become better than me."
On Feb. 6, Rory Renzi will compete in his first Patriot District finals wrestling match at the 112-pound weight. His brother captured his first Patriot District title in the same weight class.
Rory Renzi said he's optimistic he'll be ready for the match despite the possibility of facing seasoned wrestlers.
"At 112 pounds, I'm undefeated," Rory Renzi said. "So I'm pretty confident going into the tournament."
Like any good brother, Ross Renzi quickly boasts about his own accomplishments, chiding Rory to match his success.
"In my freshman year, I beat a senior in the finals," Ross Renzi said.
The sibling smacktalk doesn't stop there. Ross Renzi said he sometimes singles out his brother during practice to work harder.
"Yeah, just a little bit harder," Ross Renzi said. "I yell at him, get him ready and make sure he's not messing around."
Rory Renzi rolls his head back as if his brother isn't telling the whole truth, but he admits he appreciates the guidance.
"He's making sure I don't make the same mistakes he did," Rory Renzi said. "He's just trying to make me better, so I listen to him."
While the Renzi brothers might share a bond on and off the wrestling mat, the significance of Rory Renzi's rise and Ross Renzi's exit tells the story of the Lake Braddock wrestling team.
"We're young, but we have a lot of talent," Rory Renzi said. "We're going to be good in a few years."
The Bruins will graduate eight seniors this season, leaving behind a team composed of mostly sophomores and freshman.
The junior varsity team, which will likely help fill holes in the roster next season, features only one junior.
Rory Renzi's assessment echoes his coach's feelings toward such a young team.
"[The young wresters] are coming along in their first year on varsity," Matheny said. "We're just building their confidence right now."
Matheny also said the team has adopted a "blue-collar" philosophy, seeking victory from hard work.
"We're young, but the group we have is the hardest-working group we've had in a long time," he said. "They don't mind doing extra work to get better."
Despite a standout season for individual wrestlers, the Bruins greatest weakness has come at dual meets where the team has been forced to forfeit some matches due to a lack of athletes.
"We have a few holes in our line-up," junior Cory Smith said. "But we also have a lot of guys who can be district champions. The younger guys also can help us score points."
Smith said he's already beginning to take on a leadership role for the team and hopes his recent success can inspire his younger teammates.
"In my first two years, I wasn't the most successful wrestler," said Smith, who wrestles at 171 pounds and has a 26-7 record this season. The younger guys can look at that and see that hard work pays off."
While Matheny knows he has top caliber wrestlers in the Renzi brothers, Smith and senior Wasim Abbasi, his optimism for future seasons stems from one important character trait.
"We have a lot of tough kids here," he said.