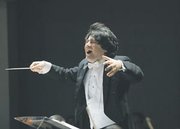 Higher, higher! The sun and the day
We two together will regain!
The scales of darkness cast away,
We two will be with love again.
I vow to you, beloved one,
Soon you will greet the day and sun;
My lyre that moved the gods, ere long
Will awaken you to life with song.
Orpheus and Eurydice by Valery Brusov
On Feb. 13 and 14 the Alexandria Symphony Orchestra will present its Valentine's Day Weekend Concerts at the Rachel M. Schlesinger Concert Hall and Arts Center.
I can't think of a more appropriate love story than Orfeo and Eurydice for this concert celebrating romantic love. Not only did Orfeo brave the realm of the dead to bring back to life his beloved Eurydice, but he did so with the power and beauty of music. Many musicians have been inspired by this story and there is growing interest in the possibility that Beethoven so loved the Orfeo myth that he embedded it into his Fourth Piano Concerto. This fascinating and compelling approach will be embraced by the orchestra and acclaimed pianist Yuliya Gorenman.
The ASO has launched an ambitious and highly successful campaign to attract children and families to the 3 p.m. Sunday matinee concerts. These matinees were crafted with families in mind, which means the concerts are more colorful and visually dynamic, and educational. There will be demonstrations from the orchestra (remember Leonard Bernstein's Young People's Concerts?) and TalkBacks. The orchestra and I really look forward to these concerts, which will have their own special flair!
The Valentine's Day Weekend Concerts are the perfect introduction for children because they feature one of the most popular and recognized pieces from Disney's "Fantasia," Beethoven's "Pastorale" Symphony. Beethoven's love of nature imbues every note of this beautiful and moving masterpiece. Before the performance the orchestra and I will play and discuss the musical themes that tell the simple and elemental story of the "Pastorale."
Whether you are looking for an uplifting Valentine's Day concert or an introduction for your children to symphonic treasures, the Alexandria Symphony Orchestra's Valentine's Day Weekend Concerts promise great music and love stories that, to quote Valery Brusov, "Will awaken you to life with song."
See you at the concerts!