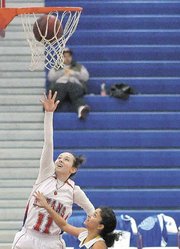 <b>Q: What is your favorite food?</b>
A: Italian food, because those are my people.
<b>Q: What location is the farthest you've traveled from the Washington, D.C. metro area?</b>
A: I went to the U.S. Virgin Islands almost every summer since I was 10. My cousin lives down there. I spend time on the beach and relax.
<b>Q: Have you had any fun in the recent snow?</b>
A: I attempted to go outside in the middle of the blizzard but that didn't work out so well.
<b>Q: Do you have a favorite basketball team?</b>
A: In the NBA, the Celtics for sure. In college it bounces around. [Right now it's the University of New Mexico] because I was born in [the] Albuquerque [area].
<b>Q: What are you doing when you're not playing basketball?</b>
A: Reading books, hanging out with my friends. When I'm not playing basketball, I'm thinking about basketball.
— Jon Roetman