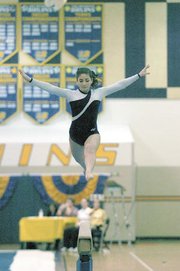 As the West Potomac gymnastics team competed on the floor — its final event of the Patriot District meet — Marien Voorhees wanted to send the Wolverines off with a bang.
For the first time, Voorhees was to end her routine with an Arabian — a half-turn move completed with a front flip. Usually Voorhees incorporates an Arabian near the start of her routine. This time, she tried something new, starting with a full twist.
One big question: would the freshman have enough gas left in her tank to pull off the concluding Arabian?
"It's a lot tougher because a floor routine takes a lot of endurance, so you're running out at the end," Voorhees said. "I was like, 'Oh God, what if I miss this?'"
Voorhees, who also cheers for West Potomac, performed well but stumbled during her Arabian landing. She received an 8.45, good for 10th place. From a team standpoint, West Potomac finished its Feb. 4 performance at Lake Braddock Secondary School in a similar fashion. The Wolverines excelled in certain areas, but made just enough mistakes to cost themselves a top-two finish and a regional berth. West Potomac placed third out of six teams with a score of 126.075. Woodson (139.425) won the event and Lake Braddock (134.65) finished second.
West Potomac head coach Pete Novgrod said he was pleased with the team's effort.
"We made a few mistakes that we don't normally make but overall they did a real good job," he said. "… We haven't hit [126 points] all year — and we had falls. We might have been able to go 130, but 126 was fantastic."
THE WOLVERINES' top all-around performer was freshman Nicole Marinello, who placed fifth with a score of 33.6. The top four all-around finishers qualify for regionals, a mark Marinello missed by 1.1 points. She did, however, qualify for regionals in the vault (eighth, 8.7), beam (third, 8.535) and floor (sixth, 8.7). The top eight finishers in individual events qualify for regionals. Marinello finished ninth on the bars (7.675), falling .05 points behind eighth-place finisher Lizzie White of Lake Braddock.
"Nicole, she came through this meet, big time," Novgrod said. "She hasn't come through like that all year in a meet — it's been hit or miss."
Marinello, who also cheers for the Wolverines, said she was pleased with the team's finish.
"I kind of assumed that was going to happen, but I'm happy," she said of the Wolverines coming in third. "I'm really happy for our captain, Cara [Yaworske], because she gets to compete one more meet."
Yaworske is the team's lone senior competitor. She qualified for regionals on the floor, finishing eighth (8.525).
Voorhees qualified on the bars (fifth, 8.5) and sophomore Monica Bell, who competes in club gymnastics with the Arlington Angels, qualified on the vault (sixth, 8.8.25).
As a team, West Potomac finished third in each event.
"All of us kind of got a little nervous on the beam and had our wobbles and falls," Bell said. "Our vault and floor were amazing."
Juniors Amanda Smith, Jade Toft, Lauren Pak and Tayler Aitken, sophomores Ali Muir and Jill Tupitza, and freshman Amanda Trenchard also competed for West Potomac. With everyone but Yaworske slated to return next season, led by the talented freshman duo of Voorhees and Marinello, the Wolverines appear to have a bright future ahead.
"Marien is young, so is Nicole," Novgrod said. "They're both young freshmen and they're still learning about high school and doing high school gymnastics."