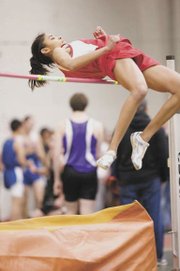 Not only is Dominique Graham an outstanding athlete as a member of the McLean High girls' indoor track and field team, but she is also a tremendous team leader, teammate and student as well.
Graham, a senior and one of the Northern Region's top track and field standouts, led the McLean girls' to their best-ever showing at the Liberty District championships last week. The Highlanders finished second overall in the team standings behind champion Jefferson. The postseason event wrapped up on Feb. 4 at the Prince George's Sports and Learning Complex in Landover.
A team captain and the Highlanders' MVP this winter, Graham scored in five events. She won the high jump (5-feet, 3 inches), the event for which she is best known. She was second in the triple jump, third in the 300-meters dash and sixth in long jump.
Graham brings more than just her athletic skills to the Highlanders, however.
"She's a very dedicated young lady, a fantastic student and a quality role model," said John Jones, McLean's head coach. "She always works hard, she's very approachable and always sets a good example for the other young ladies."
In the high jump, Graham's best mark this season was 5-6 at a meet in early January. She is ranked No. 3 overall in the state in the event, and No. 10 nationally. Last year, she was the Northern Region runner-up in high jump. Over her high school career, she has earned five district high jump titles in winter and spring seasons combined.
"She's lightning in a bottle and it's a once-in-a-lifetime opportunity to work with a girl like Dominique," said Jones.
Naturally, colleges have shown an interest in recruiting Graham, who is taking her time in making a decision on where she will attend school.
"She's had some schools get her some offers," said Jones. "She has numerous options and is taking her time to weigh them."
<b>JONES COULD NOT</b> have been much more pleased with the McLean girls' team showing at the district meet. There, the Highlanders saw eight girls (including Graham), along with three relay teams, advance to the upcoming Northern Region championships, scheduled to take place Saturday, Feb. 20 at the George Mason University field house.
"I'm very happy," said Jones. "The girls did a great job."
Jason Simoni, McLean's distance runner coach, saw his girls' 4x800-relay team run its best time in nearly ten years. The foursome, which finished third, was made up of seniors Mary Covington, Kristin Wulff, and Katey Peck, as well as freshman Madlyn Harper.
Meanwhile, McLean field coach Steve Moll had three throwers - senior Logan Tapscott, sophomore Diamond Tutt and sophomore Bridgett Smith – advance to regionals.
Also, Sean McAfee, another McLean assistant, coached juniors Simone Janssen and Katalina Khoury to points in the pole vault. And hurdler/jumper Clare Nelson scored individually in three events – the 55-high hurdles, long jump and triple jump.
McLean first year team members Jessica Burnam, a senior, and junior Ayom Izegbu bolstered the relays. Izegbu surprised many by taking second in the 300 dash.
The lady Highlanders finished the meet by taking second in the 4x400 relay. That McLean relay team was made up of Janssen, senior Shakiyla Jenkins, Burnam and junior Nina Zegler.
<b>THE MCLEAN BOYS</b> were led by their 4x800 relay team which successfully defended its district title with a first place finish. The winning relay team, made up of senior Kevin Pyne, junior Nick Hedrick, and sophomores Jason Richards and Eric Leimkuhler, improved their time by nearly 30 seconds to narrowly edge the heavily favored squad from South Lakes.
In individual events, Pyne and Hedrick finished second and sixth, respectively, in the 1000 run for the second year in a row. The two also teamed with senior Hisham Madkour (6th in the 500) and Ivan Saucedo (2nd in the pole vault) to take second in the 4x400 relay race.
Senior Kevin Kim, who returned from an injury that had kept him out of competition the past month, led the 55-high hurdles competition during the trial round with a state automatic qualifying time of 7.96. But a minor bump with another competitor in the finals resulted in a fifth place finish in the event for Kim, who also placed in the high jump. Senior Danny Ngo was fifth in the pole vault at 10-feet. The McLean boys, in the team standings, placed fourth overall, just one point behind third place Fairfax.