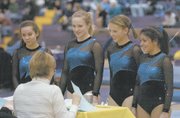 For much of the 2009-10 gymnastics season, Lee gymnast Katie Stewart has been on the outside looking in at the Patriot District's top three gymnasts.
"[Katie] has really worked on her scores recently," head coach Val Taguding said. "We hoped she could break into the top three [in the district]."
On Feb. 4, Stewart had one final chance to realize that goal at the Patriot District competition, but it didn't come easy.
Before her floor exercise routine, Stewart practiced a dizzying tumbling technique that she was unable to land. Frustrated, and with her practice time at an end, the sophomore attempted the technique for an official score.
This time she landed it, taking a slight step to the side to keep her balance.
Stewart went on to post a score of 9.325 in the floor exercise and finish third overall in the Patriot District all-around competition.
What is most impressive about Stewart's third-place finish is that it marked the first time she had performed some of her techniques in a competition.
"The moment and competing helped me get through [the routine] and stick [them]," Steward said.
The Lancers finished fifth in the team competition with a score of 99.200. Woodson won the Patriot District team title with a score of 139.425, and Lake Braddock finished in second with a score of 134.650.
Other Lee standouts included senior Stephanie Campbell, a gymnastics newcomer, who scored a personal best 6.275 on the balance beam.
"She had her best score ever on beam and her first no-fall routine on beam," Taguding said.
Missing from the Lancers' line-up was Leah Michetti, Lee's top all-around gymnast, who missed the competition due to an injury sustained before the meet.
Despite a disappointing finish, Taguding said he was proud of his team. He noted that the recent snowstorms had taken a toll on the team's preparation.
"Gymnastics is based on timing," Taguding said. "It throws your timing off if you miss practices [and] then add in the pressure of being at a district championship."
Taguding conceded that all of the Patriot District teams endured the same hardships.
"All of the girls at the competition were under the same pressure," Taguding said. "You have to give all of them credit for coming out here and competing."
Freshman Steps in for Spartans
West Springfield head coach Sylvie Rosenbaum didn't plan for her freshman gymnast Tasiya Novopachennaia to compete in the all-around competition, but when a team member was unable to participate due to missing school, Rosenbaum gave the freshman a shot.
"At first I was only going to have her do floor exercise," she said. "But then I had her do the all-around."
Adding more stress to Novopachennaia is that the snowstorms had cancelled crucial practices that would have helped her prepare for the meet.
Despite the circumstances, Novopachennaia finished in 14th place with a score of 23.925 and gained valuable experience for her gymnastics future.
"The pressure of [competing in the all-around] was hard," Novopachennaia said. "Not having practice made me feel like I didn't do as well as I could have."
The Spartans went on to finish in fourth place for the team competition with a score of 99.825.
"The meet was OK," Rosenbaum said. "The girls did well on floor and vault, but bars was difficult."
Much as Lee's coach had mentioned the effects of missed practices on his team, Rosenbaum said her team had gone almost a week without working on their routines.
"The girls had gone four days straight [for a vacation weekend] without practicing and then we had the snow and that cancelled practices," she said. "When the snow melted, not everyone was around to practice."