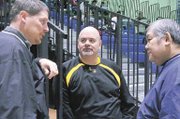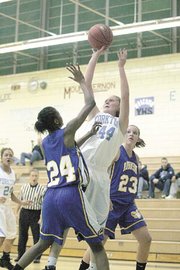 While the snow shovel is not regarded as a common accessory to improvement in the wrestling world, the tool might play a role in Washington-Lee's end-of-year success.
Snow storms in the Washington D.C. metro area led to school closures and athletic event postponements during the last week with more expected in the near future. While athletic directors search for possible re-scheduling dates, coaches and players have causes for concern other than simply returning to competition.
<b>Conditioning</b>
Jim Mon's Generals were scheduled to compete in the National District meet on Saturday, but the event was postponed until Tuesday due to inclement weather. The meet was postponed again and it is unclear when, or if, it will be held.
Mon said the team will continue to prepare for action. But while the Generals are on an extended break from school — classes were cancelled Friday, Monday and Tuesday — Mon said he is concerned with conditioning because his athletes have to not only stay in shape, but maintain a certain weight.
The kids are "probably rusty," Mon said. "The boys have to get into their routines and control their weight. If they're out in the snow having fun, they can burn calories that way. If they're out shoveling snow, they can burn calories."
Games and practices are cancelled on days when Arlington schools are closed.
Whitman (Bethesda, Md.) girls basketball coach Pete Kenah realizes workout options are limited due to snow but feels his request requires less-than-maximum effort from his players: there's 24 hours in a day; use one for exercise.
The Vikings last played Feb. 4, defeating Northwest (Germantown, Md.) 54-52. Since then, the Vikings have not had an organized team activity. Schools were closed Friday, Monday and Tuesday. Saturday athletic events were postponed. When Montgomery County Public Schools are closed, "all school and community activities are cancelled, including athletic practices and events," according to the Montgomery County Public Schools Website. Cold, snowy weather makes for a potential cozy — and lazy — indoor environment. But Kenah's top offensive threats — guards Caroline Kahlenberg and Susan Russell — have followed his instructions, finding ways to stay active.
"We all have to find time to work out on our own," Kahlenberg said. "We can't really communicate. We're doing the best we can through Facebook, but it's not the same as practice."
The senior said she's been busy shoveling snow.
"There are so few options with what we have [to stay active]," Kahlenberg said.
Kahlenberg and Russell said the effects of the storm will be evident when the Vikings return to the court.
"It's really difficult, especially if people don't have treadmills," Russell, the team's leading scorer, said of maintaining fitness during recent inclement weather. "I've been walking my dog a lot … [and] other team members have been walking outside."
Whitman was scheduled to face Churchill (Potomac, Md.) for the division title on Tuesday, but the game has been postponed until Thursday, Kenah said. The game could be postponed again with another potential snowstorm headed to the area.
Churchill boys basketball coach Matt Miller said he's concerned with potential injuries which could result from playing a lot of games in a short period of time after an extended break from action. Miller said teams might play three or four games in a week for several weeks in order to get caught up.
"Who knows what's going to happen," Miller said of re-scheduling. "We'll really have to rely on the depth of our bench. … It gets challenging in order to prepare. [You don't want to be] doing too much before games [but you want to] maintain strength and conditioning."
The Bulldogs last played Feb. 2, beating Walter Johnson 52-38. Churchill had games against Richard Montgomery (Friday) and Whitman (Tuesday) postponed.
<b>Academics</b>
Yorktown Director of Student Activities Mike Krufeld said it is important when re-scheduling to remember that student-athletes are students first. When schools finally re-open, there will be plenty of classwork to be made up as well as athletic events. He wants to avoid overloading students with sports and not giving them enough time to get back on track in the classroom.
"I think that we as athletic administrators have to look at the way we incorporate athletics and instruction," Krufeld said. "… Courses have fist priority."
Krufeld said DSAs met Tuesday to discuss potential regional and district scheduling resolutions.
"A lot of it comes down to what's controllable and what's not," he said Monday. "They way I tend to look at it is once we get some indication when we'll be back in school we can start making necessary adjustments to the athletic schedule."
<b>Momentum</b>
The Whitman girls are on a five-game winning streak and have won 10 of their last 11 en route to a 14-3 record. While inclement weather affects everyone, a team like the Vikings that is playing well generally wants to be on the floor as much as possible. With a matchup against Churchill — the only 4A West team to beat the Vikings — looming, time away from basketball is likely the last thing Whitman wants.
"I think momentum-wise I'll see [how the break affects us] when we get back on the court," Kenah said. "We've won five straight heading into our next game against Churchill for the division championship. Our kids are really excited about that."
Whitman is 6-1 in the division. Churchill, which is 13-4 overall and 5-2 in the division, is also playing well. The Bulldogs have won three straight and eight of their last nine. Churchill beat Whitman 55-50 in overtime on Jan. 15.
Yorktown boys basketball coach Richard Avila said he doesn't think time away from basketball will disrupt the Patriots, who have won four of their last five games.
"As far as our style of play, it hasn't affected us," he said. "We're going to do the same thing."
The Yorktown boys and girls basketball teams had games against Mount Vernon, Hayfield and Stuart postponed in the last nine days.
<b>Positives</b>
While the weather has created some scheduling headaches, there have been some positives to come out of the situation. Some players have enjoyed taking time away from their respective sport.
"A lot of us are ready for a break or rest so we can catch up on school work," Whitman's Russell said. "We can come back ready to focus on basketball rather than a test or school work."
Kenah said he was pleased MCPS gave advance notice when athletic events were to be postponed, rather than leaving coaches and players to wonder.
With the potential for more snow, players, coaches and administrators will likely spend more time juggling the ups and downs of winter weather.
"We're getting ready for districts," Mon said. We don't have "any negative thoughts. We didn't think about the school closing but if it happens it happens. I explained [to my wrestlers] the policy [of no school, no practice or meet]. … They look to you for guidance. You have to tell them the decisions being made are not yours."