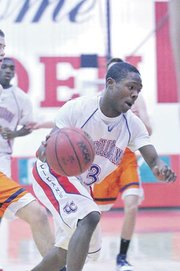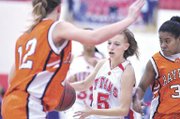 After it was discovered the T.C. Williams boys basketball team would forfeit 12 wins and lose two players due to eligibility issues, head coach Julian King said it would be important for the Titans to gain experience and improve during the regular season's final five games.
King and the Titans will have to settle for one game prior to the postseason as snow storms led to the cancellation of remaining regular season games for boys and girls basketball teams in the Patriot District. T.C. Williams is scheduled to host the district tournament starting Tuesday or Wednesday.
While the canceling of games affects all teams, the T.C. boys are in arguably the toughest spot, having had only one game to prepare without Darrius Porter and leading scorer Billy Rowland, who were deemed ineligible.
"I'm a little disappointed because I would have liked to have had that time to get the kids into a rhythm without the other guys," King said. Those games were going to be for us to "gauge where we are and what we have to do and maybe even move up a few more [seeds]."
The snow has led to school closures and teams not being able to practice.
"Everybody's being crippled by not having a chance to practice or play," King said. "But with us having major changes, one game to prepare for the tournament" is tough.
T.C. GIRLS COACH Cavanaugh Hagen also said she would have preferred to play the regular season games.
"I would love the four games, to be honest," she said, "to give our kids more time to build their confidence going into the tournament."
Staying in shape is also a concern for teams during snow days. Conditions limit the amount of physical activities available to athletes. Senior Tayron Chambers said he has been doing push-ups, sit-ups, calf raises and looked to eat healthy. Hagen suggested her players take advantage of the elements.
"No. 1 is to be safe," she said, "but right after that is to get out and either run in the snow, or go sledding or run up hills or do cardio at home if you have a treadmill or an elliptical. Be active as possible."
Junior guard Rainie Summa said there's another snow activity that helps with fitness.
"For starters, shoveling snow helps for some cardio," she said, adding she also has weights and an Orbitrek at home. My body is "wondering why I'm not playing. This is really different for me not playing this long."
While there are negatives that come with inclement weather, Summa said taking a break when she suffered an injury during her freshman year energized her for a return to the court. Chambers said the Titans will be prepared.
"We'll be ready for the district tournament," he said. "It's going to be a challenge for us."